Paint it bleak: German police clean up Occupy Frankfurt Camp (PHOTOS)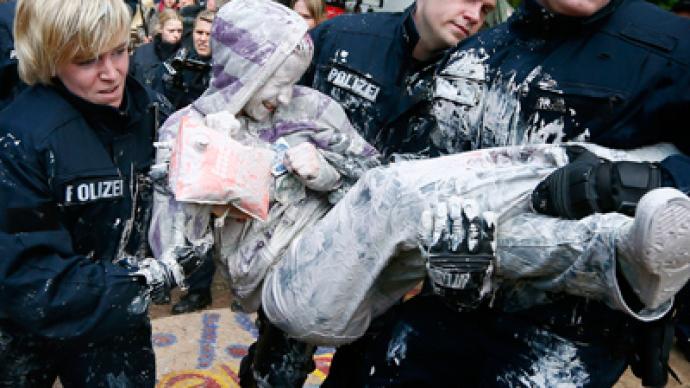 Cleaning up a tent camp of about 300 Occupy protesters – Europe's longest continuous "Indignants" protest – from near the European Central Bank turned out to be a messy business for some Frankfurt police.
­Some of the demonstrators bathed in paint and hurled it at police who were moving them on, after they stubbornly refused to leave voluntarily.
AFP Photo/Daniel Roland­Police spokesman Manfred Vonhausen said Wednesday the protesters were told they need to leave after a court upheld a ruling the camp was a threat to public safety.
AFP Photo/Daniel Roland­The camp clearing which started on Wednesday is to be completed by Sunday, May 20.
Reuters/Kai Pfaffenbach­About 30 police trucks arrived at the scene as many of the protesters were sitting to form a blockade of the area.
Reuters/Kai Pfaffenbach­However, the clearing of the Occupy Frankfurt camp was largely peaceful.
Reuters/Kai Pfaffenbach­The camp, located in a park across from the ECB in Europe's financial hub, stayed there for over seven months, since October, in their 50 or so brightly colored tents placed next to a gigantic euro symbol – the logo of the ECB.
AFP Photo/Daniel Roland