Polish vandals scare two giraffes to death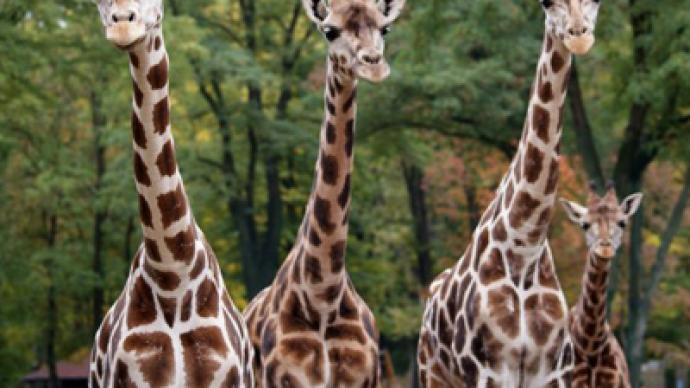 Two female giraffes have died of heart attack and stress caused by a night rampage by a group of vandals in a Polish zoo. The zoo is now struggling to find a mate for the only survivor, six-year-old Tofik from the endangered Rothschild subspecies.
The staff discovered the dead body of one female giraffe early in the morning amid the havoc that several unidentified vandals had left after their malicious hooliganism. The gang broke into the zoo in the city of Lodz on Saturday. They overturned benches and signs and threw garbage cans into the cages, stressing the animals. A post-mortem showed that the three-year-old giraffe died almost immediately after the incident. The second female giraffe died on Monday. Though it was being treated for an infestation of parasites, zoo officials believe that stress contributed much to the death."These are wild animals and very skittish," said zoo Director Ryszard Topola, adding that the incident was an irrevocable loss.The zoo in the city of Lodz, one of Poland's 20 zoos, had only three giraffes from the endangered Rothschild giraffe subspecies. Now, after two females tragically died, the zoo's breeding section is struggling to find a companion giraffe for the male Tofik in other European zoos.Police have opened an investigation into the act of vandalism, but the fact that the zoo is not equipped with security cameras is hampering the search.Meanwhile, the Polish national Animal Guard, together with city authorities, has offered a $1,500 reward for any help in finding the culprits, who face prison sentences of up to five years for this crime.
You can share this story on social media: