March for jobs: Thousands of anti-govt protesters rally in Poland (PHOTOS, VIDEO)
Tens of thousands of Polish demonstrators and trade unionists have marched through Warsaw Saturday after four days of protests against Prime Minster Donald Tusk's center-right government.
The Solidarity trade union movement has been planning to send 100,000 of its members on the march and they are expected to be joined by two other unions with hundreds of busses already converging on Warsaw.
First the rally gathered in front of major government ministries and then marched noisily towards the parliament. Protesters were armed with drums, flags and banners in Polish national white and red colors. Some of them have been camped outside parliament since Wednesday.
Among the demands are a higher minimum wage and better job security, particularly among the young, as well as to reverse recent labor and pension changes.
"I want an end to temporary contracts. Young people are only getting contracts for one, two, three months," Zdzislaw Urabanek, a 60 year old chemical factory worker and Solidarity member, told AFP.
"We want better pensions at the age of 65 as before and not at the age of 67 as Tusk's reform would have it. We want better social policy and guarantees for employees," said Marek Lewandowski, a spokesman for the Polish trade union federation Solidarity.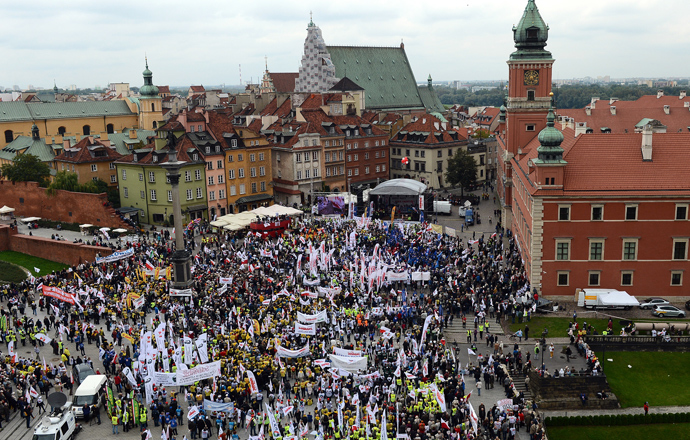 "We are here today because in the words of our anthem; it is better to stand dying than to live on your knees," Maria Gorzula, a Solidarity Trade Union member, told AP.
Protests kicked off back on Wednesday. Opinion polls suggest that as many as 59% of Poles support the demonstrators, while only 31% said they were against the protests.
The unions also say that Tusk is refusing to engage in political dialogue about their concerns.
Jacek Zalek an MP who defected from Tusk's centrist Civic Platform party on Thursday told reporters that the protests were a sign that the government has proved unable to deal with the challenges put before it by the Polish people.
"We want the departure of Donald Tusk. This is the only way to change social policy in Poland," said Lewandowski.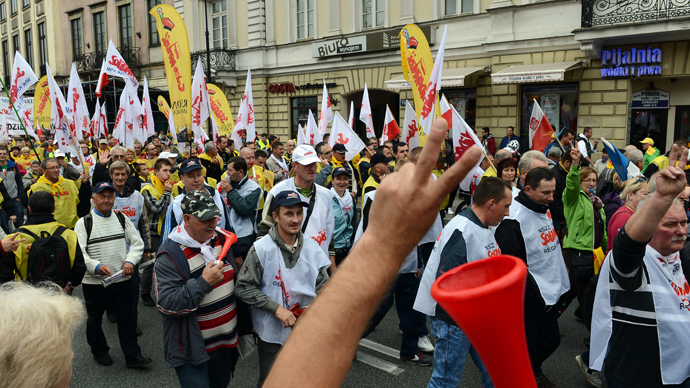 But Tusk fought back Friday, arguing that he had succeeded in pushing through the 2013 budget by widening the deficit by an extra 3.8 billion euros ($5 billion).
"Today's decision proves that the government's majority is stable," he said after Friday's vote on the budget. He added that concerns over three lawmakers who have defected from his party were "unfounded".
Politicians approved the amendment to the budget with 235 votes for it, 73 against and three abstentions. Tusk's majority is a delicate 232 seats in the 460 seat parliament.
Political pundits have suggested that Tusk might still be able to muster enough support in Poland's lower house to pass the 2014 budget and avoid snap elections, which his rivals the Law and Justice (PiS) Party could win.
The PiS party is run by former Prime Minister Jaroslaw Kacznski and at the moment is ahead of Tusk's PO party in opinion polls.
Poland is the only EU country to have achieved growth every year for the past two decades, but for the first quarter of this year it experienced a sharp economic downturn with growth of just 0.1%. Unemployment stands at 13% in the country of 38 million people.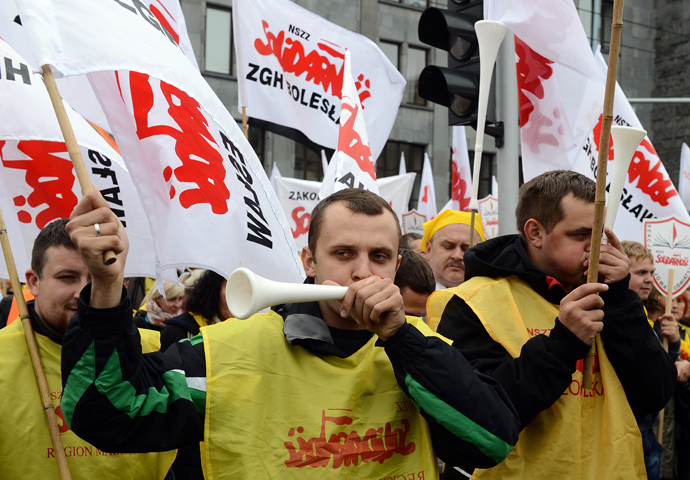 You can share this story on social media: