'Wake up, Poland!': Thousands take to streets in Warsaw for antigovernment protest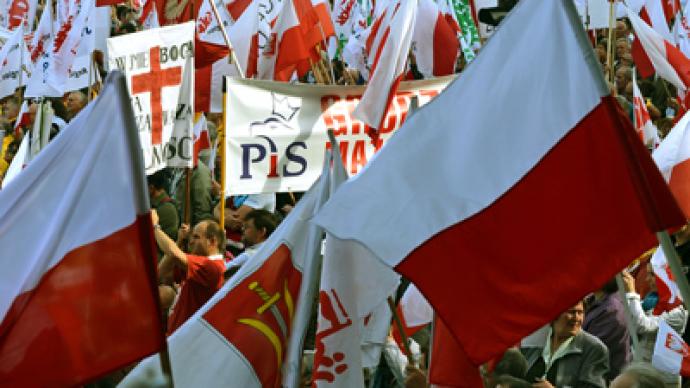 Tens of thousands of people marched through the capital of Poland on Saturday in protest over government reforms and a new law that raises the retirement age, and in solidarity with the Catholic Church, which was recently stripped of its TV station.
Dubbed 'Wake Up, Poland,' the rally was organized by the country's conservative Law and Justice opposition party, led by Jaroslaw Kaczynski, the trade union Solidarity and other groups. The event was Poland's biggest demonstration in several months.
Addressing protesters gathered in Warsaw's Castle Square, Kaczynski said that, "These huge crowds mean strength. They mean that Poland has awakened. More and more Poles will be awakening. The cup of evil has overflowed. We Poles, we Polish patriots say 'no,'" Reuters reported.A key issue for the protesters is a new retirement law enacted by the government of Prime Minister Donald Tusk that will gradually raise the country's retirement age to 67, from 60 for women and 65 for men. The change will be phased in for men by 2020 and for women by 2040. Starting in 2013, the retirement age will be increased by three months every year. The law is the subject of furious public debate throughout the country.
Participants also expressed anger at a decision by the Polish National Broadcasting Council to strip a Catholic TV station, TV Trwam, of its right to broadcast digitally for free. Protesters claimed the move was a blow to freedom of expression and an attempt to silence their conservative Catholic worldview. According to an AP report, the broadcasting council claimed the station lost its transmission rights because of a lack of transparency in its funding."Our presence here is a sign of opposition to the discrimination against Catholic media and TV Trwam," leading conservative politician Zbigniew Ziobro told protesters, the AP reported.The rally was nonviolent, with many protesters singing patriotic and religious songs and holding up rosaries and portraits of the Virgin Mary. Before the protest march, a Catholic Mass was held at Three Crosses Square in downtown Warsaw.
You can share this story on social media: