Six degrees of absurdity: Iranian sanctions regime highlights US political hypocrisy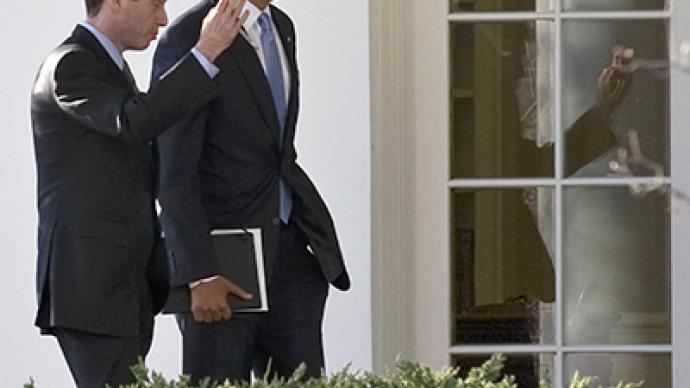 Washington has often been described as a revolving door, but when it comes to Iran, the ever expanding sanctions regime risks catching both Romney and Obama in an absurd trap of their own making, exposing the politicization of the Iranian issue.
Following revelations that White House senior advisor David Plouffe was paid $100,000 in speaking fees from a company partnered up with Iran just before taking a place on Obama's staff, the inevitable volley of accusations and counter-accusations has followed.On a political battlefield where the Geneva Convention does not protect against rhetorical hyperbole, Kirsten Kukowski, a spokeswoman for the Republican National Committee, took the cake with her over-the-top sensationalism."Today's story raises serious questions," she said. "David Plouffe may be the biggest loophole in the international community's sanctions against Iran."White House spokesman Eric Shultz found defense in the murky waters of what constitutes complicity in a tangled web of sanctions against Iran."At the time [December 2010], not even the most zealous watchdog group on this issue had targeted the Iranian business interests of the host's holding company. Criticism of Mr. Plouffe now for issues and controversies that developed only years later is simply misplaced," Reuters cites him as saying.On Monday, The Washington Post reported that a subsidiary of MTN Group, the South African-based telecommunications giant, paid Plouffe $100,000 for two speeches he made in Nigeria in December 2010, a mere month before he joined the White House Staff.The subsidiary in question is a major shareholder in Irancell, a government-linked wireless phone operator in Iran. Irancell was described by a 2006 WikiLeak diplomatic cable leak as being "fully owned" by the Iranian Revolutionary Guard Corps, the New York Times reports.MTN has been accused of helping the Iranian government indirectly keep tabs on dissidents through use of its operations and technology, making it an object of scorn in some US policy circles. However, no sanctions have thus far been levied against the company which has some 35 million mobile subscribers in Iran.Due to the timing of the speaking engagement, speculation that MTN was making an investment in someone who would soon have Obama's ear was lost on Republicans seeking to call out the president over the Iranian bogeyman.The White House shot back with the usual call of hypocrisy, saying Republicans were conspicuously silent when it came to Bush-era officials who had been paid to speak by firms operating in Iran before taking a place in the 43rd president's administration."This is clearly politics," White House press secretary Jay Carney said.Obama campaign spokesman Ben LaBolt said that Romney had his own Iranian skeletons in the closet, as he had failed to divest from firms doing business in the country despite his public proclamations to the contrary. Ironically, one of those firms, Turkcell investment, had originally won the Iranian contract that ultimately went to MTN.The New York Times reports that Turkcell sued MTN for $4.2 billion this year, saying they had won the Iranian contract by bribing officials, as well as promising Iran arms and United Nations votes. Plouffe's supporters say Romney would have benefited from that lawsuit, though the Republican presidential hopeful did in fact sell his Turkcell investment in 2010.
'The hypocrisy on Iran has reached 11'
Both the Bush and Obama administrations deployed increasingly harsh sanctions to target Iran's energy sector and isolate it from the world financial system. However, the need to make great gestures to target Tehran has only highlighted the hypocrisy of a system where political expediency and business interests run on parallel lines, while politicians are likely to zigzag. A joint project by the Center for Responsive Politics and Remapping Debate found that of those who lost their 2010 congressional re-election bids or chose to step down, just over 53 per cent of them ended up at a lobbying firm. Cases such as Plouffe's highlight fears that loyalty is often defined more by institutional position than principle.Jamal Abdi, policy director of the National Iranian American Council, told RT the deepest irony is that Obama is now being accused of being soft on Iran because his harsh sanctions regime has in fact highlighted his top advisor's connection, which is tangential at best."It is troublesome for the Obama administration and I hope that the irony is not lost on people. This is a president who is being criticized by Mitt Romney for being too soft on Iran, but he's passed the strongest sanctions that have ever been imposed on any country and they're so broad that his top political advisor is now being ensnared in the sanctions. So either the sanctions are too broad and are having a counter-productive effect, or this president has actually been pretty tough on Iran, to the extent that his own guys are now being sucked up into this nonsense."Abdi says that while MTN is likely to be targeted in the future as any company doing business in Iran is going to be connected to a sanctioned entity in some manner, retroactively attaching blame to Plouffe "does not make sense."  And while the White House has accused the Republicans of double standards on Iran, Abdi says the Democrats are not innocent when it comes to politicizing the Iranian issue. Judging by the actions on both sides, Abdi says "the hypocrisy right now is at level 11.""A few months ago it was the Democratic Congressional Campaign Committee hitting the Koch brothers for their millions of dollars of investments in Iran's petrochemical industry, which is now sanctioned. Just a couple of year prior, in 2007, when Mitt Romney was on the campaign trail the first time, he was writing these public letters to folks like then-Senator Clinton and other senators and governors calling for them to divest from Iran. Well, then it came out that Bain & Co. actually had invested in Iran's oil company, and were working on a strategy to make the NIOC (National Iranian Oil Company), which is now sanctioned, to make them the largest oil company in the world," he said."And so, this campaign is playing with fire because these sanctions are sucking everybody into them. They're so broad that you can't find six degrees of separation between them [the US business and political elite] and the Iranian government."Abdi argues that, in the end, the sanctions have been an excuse to avoid concrete action that would resolve the current crisis surrounding Iran's uranium enrichment program. "In lieu of making those tough decisions, we've relied pretty much exclusively on sanctions and, now, for the Obama administration and campaign, the chickens are sort of coming home to roost in that they themselves are now getting swept up in the politicization of our foreign policy and the sort of fetishization of the sanctions against Iran."Watch the complete interview with Jamal Abdi on RT