Kazakhstan plane crash kills 20 - airline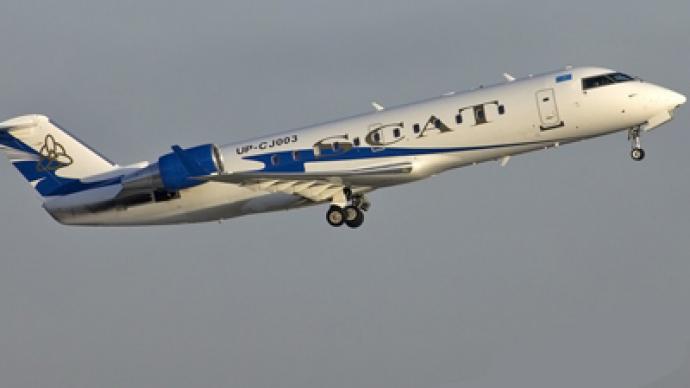 A plane has crashed in Kazakhstan with five cabin crew members and at least 15 passengers on board, Interfax reported, quoting local Emergency Ministry workers.
Reuters, however, quoted a list published by the prosecutor-general's office which said the number of people killed in the crash was 21, not 20.The plane, which according to reports is a Challenger-200, crashed near Almaty, the largest city in the country. At 1:15pm local time (7:15 GMT) it disappeared from radar.The passengers were mostly business professionals, with one child among those on board, local authorities said. The plane broke into several parts after falling to the ground, they added.Air carrier SCAT reported that the plane attempted to land in harsh weather conditions. During the second landing attempt, the plane crashed."The preliminary cause of the accident is bad weather," Deputy Almaty Mayor Maulen Mukashev told reporters. "Not a single part of the plane was left intact after it came down."However, aviation expert Chris Yates said that planes of this type can land even in very low-visibility conditions: "[You] don't actually have to see anything as long as the airport has accurate navigational aids and the pilot is given accurate approach guidance from air traffic control."The Challenger-200 is a small regional airplane which can carry around 50 passengers.This latest tragedy follows another plane crash in Kazakhstan on December 25, in which all 27 passengers died. Seven cabin crew members and 20 military officers were on board. Witnesses reported seeing a huge blast at the moment of the crash.
You can share this story on social media: