No stardom, but arrest: Belgium tricks Somali chief pirate with documentary promise
Published time: 14 Oct, 2013 22:06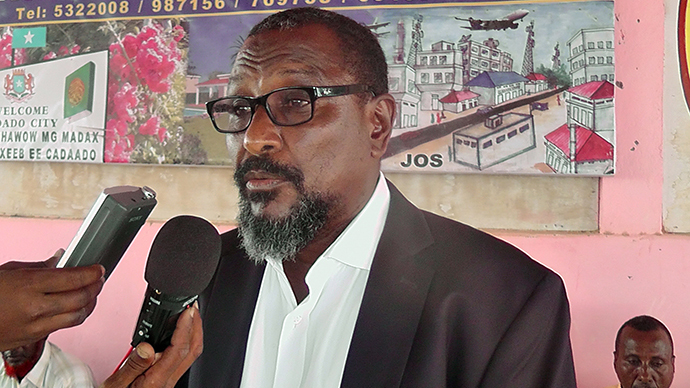 Belgium has arrested a notorious Somali pirate after luring him to Brussels with a promise to shoot a documentary about his life on the high seas. Mohamed Abdi Hassan, known as Big Mouth, was detained after he stepped of a flight from Nairobi.
Big Mouth had announced in the Somali capital in January that he was quitting piracy for good after having made a fortune attacking dozens of ships between 2008 and 2013.
The current charges submitted to a Belgian court follow the seizing of a Belgian ship, the Pompei in 2009, which was held off the coast of Somalia for 70 days until a ransom was dropped to the pirates by parachute. Two of the pirates involved in the incident have already been sentenced to nine and ten years in 2012. 
But Belgian prosecutors were determined to get the mastermind "behind this act of piracy, who ordered, financed and organized logistical backup," Johan Delmulle, a federal prosecutor told AFP.
Belgian investigators suspected Big Mouth was behind the attack after hearing evidence from some of the other pirates involved and questioning the officers who were held for ransom.
But as Big Mouth lived in Somalia and rarely travelled, Belgium police concocted an elaborate infiltration operation aimed at arresting him outside the war-torn African nation.
"The plan was to approach Afweyne ['big mouth' in Somalian] through the intermediary of his accomplice named Tiiceey. Via Tiiceey, Afweyne was asked to collaborate as an advisor and expert on a film project on maritime piracy. The film was supposed to reflect his life as a pirate," Delmulle said in a statement. 
Tiicey who was accompanying his partner in crime was also nabbed as the pair got off the plane.
Big Mouth has been described by the UN as "one of the most notorious and influential leaders" in Somalia's pirate network.
He was involved in both the capture of Saudi owned Sirius Star supertanker, which was released only after several million dollars were paid out and the MV Faina, a Ukrainian ship with 34 refurbished soviet-era battle tanks on board.
There has been a significant naval operation by many countries around the Horn of Africa and the Indian Ocean, which has helped stop attacks. There haven't been any successful pirate raids on ships since May 2012.