Piranha caught in Siberian river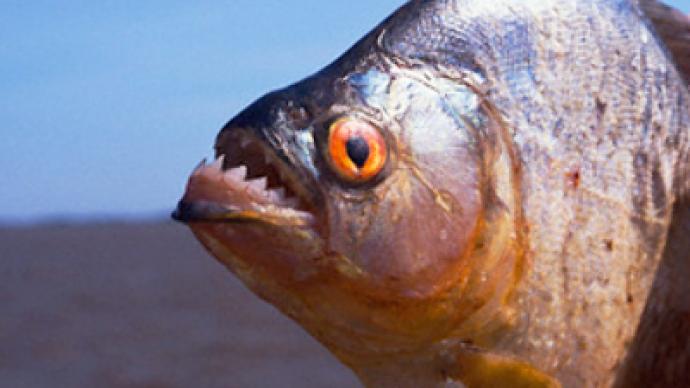 A fisherman in the Siberian city of Barnaul returned from the river Ob with a pretty shocking catch on the end of his hook: a piranha, Itar-Tass news agency reports.
The predator fish that inhabits the Amazon and some other Latin American rivers weighed 634 grams.
The scientists at the Altay State University say the Black Piranha, or Serrasalmus niger, got into the waters of Ob as a result of a joke from some aquarists.
"The stomach of the piranha was full of artificial meat, the one used to feed aquarium fishes. It means that somebody released the fish into the river just for fun," Professor Valery Zhuravlev said.
He also said that the predator didn't pose much of a threat to the people of the cities standing on Ob, Russia's fourth greatest river.
"In the waters of Amazon, Black Piranhas can attack other animals or even humans, but one should bear in mind that they only attack in packs of 30-40. These fishes cannot breed in the cold Siberian conditions," the professor explained.
The structure of the lower jaw and teeth allow piranhas to wrest large chunks of meat from the body of prey. Adult piranha can bite through a wooden stick or a human finger.
Despite its aggressiveness, piranhas are popular as aquarium fishes. You can buy one in Russia for an average price of 2,000 roubles (around $70).

This is not the first time piranhas have appeared in Russian lakes and rivers. Back in April, another 2.4 kilogram predator was caught in the Belovskoye storage reservoir in the Kemerovo Region.
You can share this story on social media: