Christmas fires kill 7 in Philippines, crowd lynches suspected culprit (PHOTOS)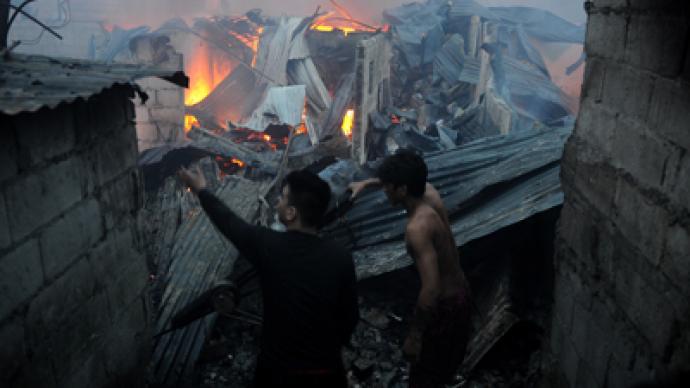 At least eight people were left dead and thousands homeless after two separate fires near the Philippines capital Manila on Christmas Day.
Most of the victims were caught in the fire block, which went ablaze at Tuesday dawn in Quezon City, a suburb north of the city. Members of a single household died as the flame spread across a row of old apartments.The fire was likely triggered by an electric malfunction caused by overload from the increased use during Christmas Eve parties, firefighting authorities said.
A firefighter (R) extinguishes remaining flames after a pre-dawn fire engulfed a slum area in Manila on December 25, 2012 (AFP Photo / Noel Celis) ­Hours earlier suspected arsonists set off another fire in a sprawling shantytown in suburban San Juan city across Manila.A riot started as residents of the slums, estimated to number 8,000 people, lost their homes. A man they suspected of being behind the blaze was beaten to death by a lynch mob.Two firefighters sustained injuries, when the mop started grabbing hoses from them in an attempt to put out the fire on their own. The fire brigade had to flee out of concern for their safety.
A resident douses embers with a bucket of water at his charred home after fire razed some 500 houses at a residential area in San Juan City, Metro Manila December 25, 2012 (Reuters / Cheryl Ravelo)
Firefighters search for bodies after a pre-dawn fire engulfed a row of old apartments in Manila on December 25, 2012 (AFP Photo / Noel Celis)
Residents return to their charred homes after fire razed some 500 houses at a residential area in San Juan City, Metro Manila December 25, 2012 (Reuters / Cheryl Ravelo)
A woman walks amongst destroyed homes after a pre-dawn fire engulfed a slum area in Manila on December 25, 2012 (AFP Photo / Noel Celis)
Residents return to their charred homes after fire razed some 500 houses at a residential area in San Juan City, Metro Manila December 25, 2012 (Reuters / Cheryl Ravelo)
A resident (C) searches for salvageable materials amongst destroyed homes after a pre-dawn fire engulfed a slum area in Manila on December 25, 2012 (AFP Photo / Noel Celis)
A resident holds on to his belongings as he sleeps on the floor of an evacuation centre after fire razed some 500 houses at a residential area in San Juan City, Metro Manila December 25, 2012 (Reuters / Cheryl Ravelo)
Firefighters search for bodies after a pre-dawn fire engulfed a row of old apartments in Manila on December 25, 2012 (AFP Photo / Noel Celis)
Residents whose homes were destroyed seek refuge at a basketball court converted into an evacuation center after a pre-dawn fire engulfed a slum area in Manila on December 25, 2012 (AFP Photo / Noel Celis)