$15 million up in smoke: Peruvian police burn record 50 tons of marijuana (PHOTOS)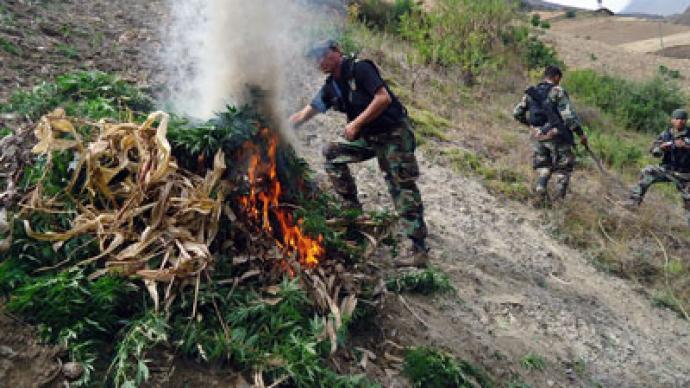 Over 200,000 marijuana plants have been destroyed in two regions of Peru. During the five-day operation, police burned 17 times more dope than during the all of 2011.
­A total of 34.5 hectares of marijuana crop were torched during an operation in the La Libertad and Huanaco regions, Director of the National Police General Raul Salazar announced.
Estimates of the US black market value of the drugs could reach $15 million, the Ministry of the Interior said in a press release.

Peru is not listed as a major marijuana producer in the 2012 United Nations World Drug Report, but reports of increased seizures and the destruction of crops indicate that marijuana production in Peru is on the rise.
In early July, Peruvian authorities destroyed another 34,000 marijuana plants ready for harvest in a remote jungle region in Chinchao. 
Meanwhile, the US Office of National Drug Control Policy announced that Peru is currently the top producer of cocaine on the planet, with Bolivia and Colombia far behind.
AFP Photo / Mininter
­
AFP Photo / Mininter
­
AFP Photo / Mininter