Mexican drug cartel 'honors' Pope with truce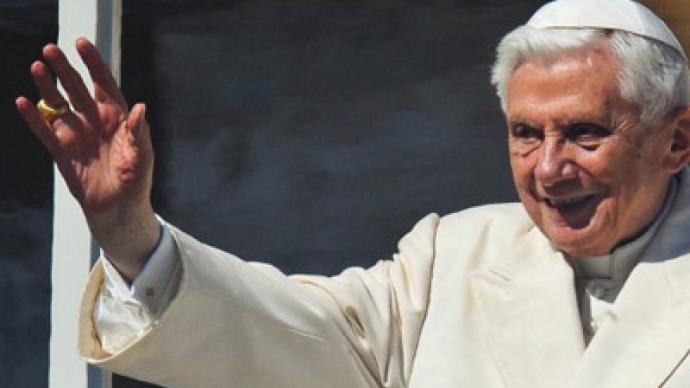 Notorious Mexican drug cartel the Knights Templar has announced a short truce to welcome Pope Benedict XVI arriving in Mexico later in the week.
The cartel has put up at least 11 signs in several towns across the country, announcing the ceasefire in their battle with "competitors" – other drug cartels, and with law enforcers. "The Knights Templar are holding off on all violent action, we are not killers, welcome to the Pope," a Mexican official paraphrased one of the signs to AFP news agency. The banner was seen in the town of Irapuato in Guanajuato state in Mexico. The Pope's visit starts on March 23, from the Mexican state of Guanajuato, not far from the state of Michoacan, where the "knights" are based. The Templar, who named themselves after the medieval knight order, are notorious for drug killings, pseudo-religious stance and stunts which are hard to ignore. The cartel, that proclaims themselves as religion's "defenders", separated from Michoacan's drug cartel La Familia back in 2011, hanging out white gowns with red crosses on them, in the state's main towns. The two groups since then have been fighting for dominance, killing police and civilians along the way. Late on Sunday 12 policemen were killed and 11 injured near the city of Teloloapan in the southern state of Guerrero, neighboring Michoacan.The officers fell under attack after being dispatched to search for the bodies of 10 people, whose heads were found at the town's slaughterhouse on Sunday. The heads of three women and seven men were accompanied with a note threatening La Familia.A group of armed men is believed to have ambushed and shot the policemen as they were traveling in their patrol pickups along the road leading out of Teloloapan. The area is notorious for its poppy and marijuana production and has been marred by repeated lethal fighting of numerous drug groups. Almost 50,000 people have fallen victims of the nationwide drug violence since the country's authorities started a crackdown on drug cartels back in December 2006.
You can share this story on social media: