Rick Perry drops presidential bid to support Newt Gingrich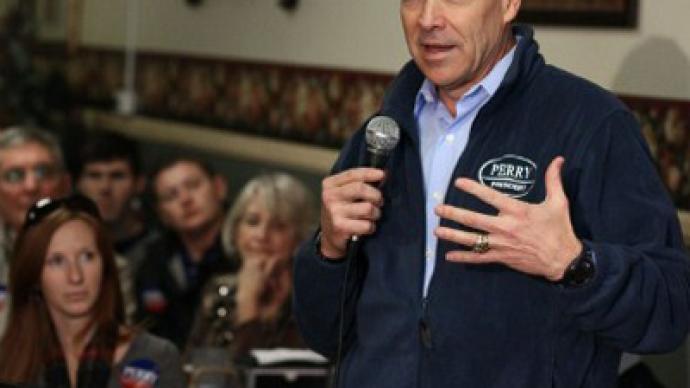 Texas Governor Rick Perry has officially abandoned his presidential bid. Perry announced his decision at a news conference in South Carolina on Thursday at 11:00 AM local time.
Rick Perry became the third Republican candidate to suspend their presidential campaign in the primary season after Congresswoman Michelle Bachmann and Former Utah Governor Jon Huntsman. One more hopeful, businessman Herman Cain, dropped out in December last year. Perry threw his support behind former House speaker Newt Gingrich. Rick Perry entered the campaign in August and was almost immediately touted as the frontrunner, surpassing veteran campaigner Mitt Romney. Perry, who has served an unprecedented 11 years in office as Governor of Texas, was seen as a candidate appealing to religious conservatives, doubtful of Romney's uncertain stance on some key issues. Many in the Republican camp consider Perry's position to be much more consistent, citing Romney's flip-flopping on a number of social issues, such as abortion and gay rights.However by fall, Perry's campaign began to experience difficulties. Pizza mogul Herman Cain came to lead the polls until his campaign became embroiled in a series of sex scandals dating back to the 1990s. But Perry was unable to capitalize on this loss due to a number of blunders during public speeches and debates. During one debate between Republican contenders, he managed to forget the name of one of three federal departments he wanted to get rid of. The only word he could utter was "oops" leading many political pundits to dub the episode the "Oops moment".But that wasn't his only public gaffe. One speech in New Hampshire left many wondering if he was drunk or intoxicated, as Perry cracked weird jokes about his childhood and waved his hands frantically.By December Newt Gingrich had emerged as the new frontrunner. Both Gingrich and Romney have been viewed by many as not being conservative enough for a Republican nomination. In that light, however, Perry was still unable to garner much-needed regional support as primaries approached. He decided to focus on campaigning in South Carolina, where the population is contrastingly more conservative than in the libertarian-leaning New Hampshire and mildly conservative Iowa.By the time of the primaries, former Pennsylvania Senator Rick Santorum came to be seen as the conservative alternative to Romney. Santorum, who is largely considered to be the most right-wing of the Republican presidential hopefuls, managed to beat Romney by a razor-thin margin of 34 votes in the Iowa caucuses. Rick Perry came in fifth, behind Romney, Santorum, Ron Paul and Newt Gingrich. Perry showed an even more disappointing performance in the New Hampshire primary, where he won less than 1% of the vote and came in sixth.
You can share this story on social media: