Greeks protest against rescue, call for jobs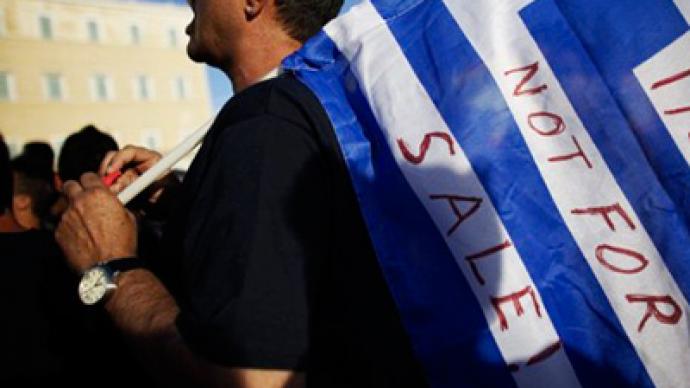 Greek police have fired tear gas at protestors attempting to block off access to the parliament in Athens, as over 20,000 angry demonstrators tried to prevent MPs from voting on new austerity measures needed to secure more bailout cash.
Demonstrators around Syntagma Square in Athens responded by throwing stones, firebombs in violent clashes with police at the Greek parliament. The crowd is chanting "resign, resign".RT's correspondent Sara Firth was reporting from the epicenter of the clashes in downtown Athens, where tear gas was fired. During her live report on air new clashes broke out, and new shots of tear gas were fired, affecting the RT crew.The situation aggravated, with crowds getting more aggressive, they continued moving toward the parliament.Thousands are taking part in a general strike against the cutbacks, which the country has to pass to continue receiving funding from 110-billion-euro international bailout that is preventing Greece from defaulting on its debts.European finance chiefs are hammering out the details of this rescue plan at the moment, trying to prevent the first sovereign default in the European Union.Protesters say proposals for new austerity measures are completely unreasonable.Opinions on whether Greece is going to default vary widely. Some people are saying it is fantasy to imagine that will be allowed to happen. Others believe now it is a question of when and not if. The anger had really been building for a year. The economic conditions in Greece are incredibly tough, there is a huge number of unemployed, about 16 per cent of the Greek workforce.Many people are asking when the IMF, the European Central Bank, and the EU, which provided the initial bailout of 110 billion euros, are going to look past the bailout and move on to plan B. Because for some it looks quite unrealistic that Greece can manage another bailout package and repay the loan.Journalist Stylianos Chrysostomidis, who was at the scene during his interview with RT, described current in the country as "war".  "It is a war with helicopters, with motorbikes, with Molotov [cocktails] and chemical stuff."The protests outside the parliament building have already been compared to the Arab Spring uprisings. And what is interesting is that now these protests are happening in countries with established democracy like Greece and Spain.Economic analyst and international lawyer Nick Skrekas says that Greeks are very disappointed, and many of those who gathered in the streets would like to see new regime in the country. "I think there are many that would like to see completely new political system with fresh faces, and no one is holding to powerful interests inside and outside the country. There are some parallels which can be drawn with the Arab Spring," he added.
Many people consider Greece the birthplace of democracy, but what people are seeing is the widening in the gap between what the government is implementing and what the electorate is calling for."In the 30–35 years of proper parliamentary democracy in Greece there has never been a government facing such a crisis of legitimacy," says one of the protesters. "It's an open political crisis here. The government is trying to govern, but the people refuse to be governed in this way."When you have literally millions of people taking to the streets and protesting against some measures and the government is still pushing ahead with them, at that point you do not really have democracy anymore.And the message of the protesters is very clear: They are out of jobs, they are out of pocket and they are out of patience.
Meanwhile, British MEP Nigel Farage does not think that another 10 billion euros should be used to bail out Greece a year after it was last done. "There is always an alternative. A Greek default and the return of the drachma would mean a very substantial devaluation for Greece, and it would mean many of these banks taking serious hits, and it would question the ability of the European Central Bank itself. It is better sometimes in life to face up to the fact that you have done something that is wrong. It is fundamentally out of kilter that the Greek and German economies can ever be together in an economic and monetary union," Farage said. "All we are doing is pouring good money after bad. It is time to face the reality and take the hit," he added.
You can share this story on social media: