'We become free to live a full life' - Patriarch Kirill sends Easter message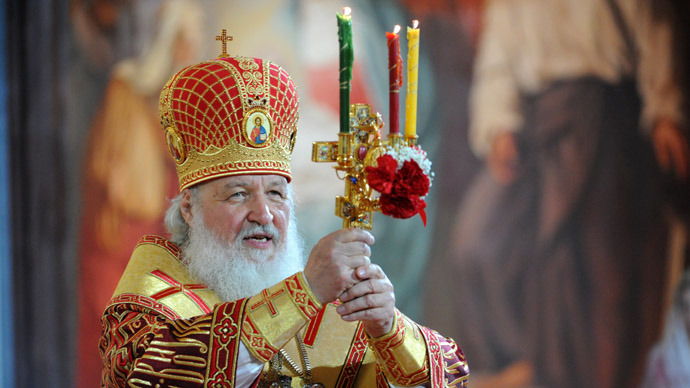 The Patriarch of Moscow and All Russia, Kirill, who heads the Russian Orthodox Church, has addressed the faithful with his traditional Easter speech.
Christ is Risen, dear brothers and sisters!
I would like to share the joy of the holy day of Easter with all of you. The Lord has indeed saved us all through his resurrection. And in order to comprehend the significance of this for us as mankind we could consider this example. Just imagine that someone innocent took the blame, responsibility and penalty for all the crimes ever committed by all the wrongdoers and rendered them all free by taking their penalty for them. Our Lord Jesus Christ did just the same, yet with one condition – he didn't open the doors of the prison cells the sinners are contained in, but undid their locks. And now it is our free choice – to step out and be free or remain locked up. In one of the hymns, we praise our risen Savior saying that He smashed open the eternal fetters and chains and freed us of them. But in order for us to step out of that door and become free we need to make our way towards Him, because there is only one way that leads to the door beyond which the freedom lies.
 
Our circumstances in life, superstitions, all kinds of stereotypes and false values lead us off this path. We often get tempted with other ways to freedom. At times people spend their entire lives pursuing these ways only to find out in the end that they're still locked up and instead of obtaining freedom have hit the wall. Some may still have the time and energy to resume their search for a way out, while others may give up the hope to escape their imprisonment.  

If we turn to Christ, we open the door that He unlocked for us. We become free and empowered by His ways and commandments. We become free to live a full life. This doesn't require any exhausting effort. It only takes to believe that Our Lord Jesus Christ has risen and saved us. It only takes to believe that the door is open. It only takes to believe that living by His will is the true freedom while any other way is the opposite.  

And when we begin to realize this, a whole new life opens to us. We find it easier to be good to people, refrain from foul words or judgments and make our way through life without hurting other people or crippling them.  

We discover that we are able to love, be faithful, and carry the truth into the world. That's what life in Christ means, that's what the true freedom is. Maintaining freedom isn't easy. Each one of us knows how difficult it is for a state to protect its freedom and independence. It sometimes takes a lot of hard work. Protecting one's freedom from numerous temptations and illusions that the dark powers are sending our way to drive us off the way to salvation isn't easy just the same way.

The holy day of Easter is a celebration of victory and freedom. Let's embrace this holy day with these feelings and make the decision, as much as we can, to start making our way towards our risen Savior through the door that He gracefully opened for us by His holy deeds of mercy and truth – and we can do so by helping those who need our help, promoting peace, justice and love among all of us.

Christ is risen indeed! Amen!