Palestinians draw arms in Syrian civil conflict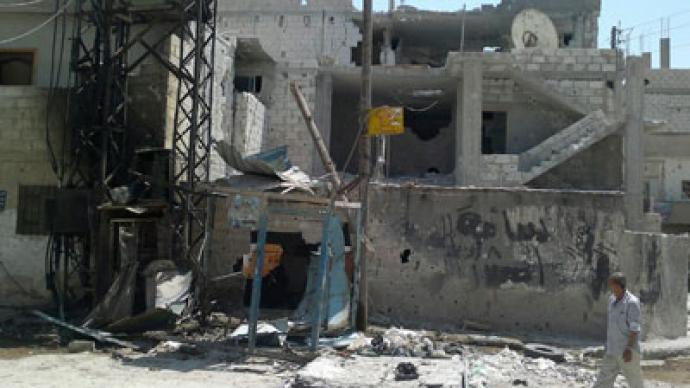 Palestinian refugees living in Syria are being drawn into the ongoing civil war. With no end to the bloodshed, the half-million exiles are abandoning their initial neutrality, taking sides in the conflict with both rebels and government loyalists.
On Wednesday Syrian rebel from the Free Syrian Army (FSA) announced that they have armed an all-Palestinian force called Liwa al-Asifah. It is located in the Yarmouk camp and will mostly target the Palestinian pro-government Popular Front for the Liberation of Palestine-General Command (PFLP-GC).The camp, south of the Syrian capital Damascus, is home to some 150,000 of the 500,000 Palestinians living in the country. Most of them are descendants of those who fled after the creation of Israel in 1948. The Syrian government has supported Palestinians for decades, granting them equal rights with Syrian nationals and treating them more kindly than many others.The FSA has previously been willing to go against Palestinians opposing their cause. In mid-October the rebels gunned down a PFLP-GC leader in the Deraa refugee camp in southern Syria.The organization said Adel Hasan was killed due to his activities to stop the FSA from using the camp as a base and recruiting new members there.Palestinians' loyalties have been under question in Syria ever since the Hamas party, once a steadfast ally of the Assad government, denounced it early this year and moved the headquarters of its highest decision-making body, the Political Bureau, from Damascus to Qatar. Last week two Hamas leaders were killed by the Syrian army in Deraa camp, according to the Palestinian news agency Ma'an.On Wednesday, a bomb exploded under the car of a Syrian army colonel in Yarmouk camp. The blast, however, caused no casualties as there was nobody in the vehicle at the time, the British-based Syrian Observatory for Human Rights said.Palestinians on the ground, especially those of older generations, have been trying for months to stay out of the conflict. They have vivid examples of how their fellow nationals in Kuwait and Jordan suffered over meddling with host countries' politics.But it is increasingly difficult to do so. Refugee camps are occasionally becoming battlegrounds. The latest instance was on Tuesday, when major clashes between the army and the rebels erupted near the Yarmouk camp and spread into it.The fighting came just a day after the feast of Eid al-Adha came to a close. FSA and the government pledged to observe ceasefire during the holy day, but it failed almost from the beginning.With pressure and economic hardships resulting from the chaos in the country mounting, more Palestinians are taking up arms and joining in the bloodshed.
You can share this story on social media: