'No constitution, no normal laws': Wife fights for Palestinian husband captured by Israel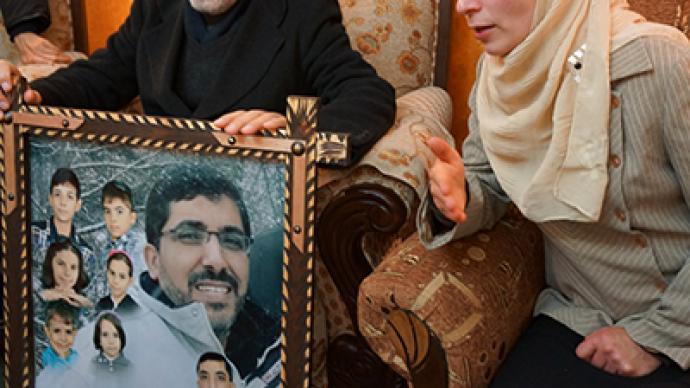 A desperate Ukrainian wife of a Palestinian engineer, abducted by Israel and jailed without trial two years ago, has been forced to conduct her own investigation. Her husband has been detained in awful conditions, and denied medical assistance.
Veronika, a Ukrainian citizen and mother of six, has said that neither she nor her kids are going to leave the Gaza Strip as a sign of protest after her husband was kidnapped and held prisoner in Israel. What may look like a Hail Mary pass for some is actually the last resort for her as a wife and mother – after the whole world abandoned her, she went one-on-one against blatant abuse from the government.Her husband, Dirar Mousa Abu Sisi, technical director of a power plant in Gaza,was kidnapped by Israel's special services two years ago in Ukraine, where he went in the hope of obtaining Ukrainian citizenship, and was secretly extradited from the country in a coffin. For two year, he has been tortured in an Israeli prison without charge.Ukraine, however, claims he never left its territory.Europe, the US, Muslim countries, the revolutionary forces of the Islamic revival, the UN and international human rights organizations have all been silent on the incident.In their modest apartment in the Jabalia refugee camp, we are met by Veronika, whose head is covered with a veil. This beautiful, confident woman apparently feels ill at ease: It's the first time she has received Russian journalists in Gaza; Ukrainian journalists said that her story is still taboo.She tries to keep her cool: Her voice only melts when she speaks to her mother-in-law, whom she calls 'Mummy.'Her parents-in-law have moved here from Jordan to live with her.Veronika was born into a military family in Leningrad. Later, her parents had to move to Ukraine. Shortly afterwards, the USSR collapsed.
Engineer's wife… turned prisoner's wifeVeronika and Dirar got married in 1998, when he was a student in Kharkov – where they first met. Veronika was 19; she had a degree in music, and no idea whatsoever of the Palestinian conflict. Dirar is 43 years old now, and Veronika is 34.In 2000, the US company that owned the power plant offered her husband a job as assistant operator. "We tried looking for a job in Ukraine – but there was none we could find," she said. "We looked for a job in Jordan – but my husband was told that his Ukrainian degree was not recognized by Jordanian employers. When he received a job offer from Gaza, we hopped on a plane immediately and went there – at that time, the airport was still working." The vacancy matched his qualification, and they thought Gaza was a wonderful place to go to. Shortly after that, the American company went bankrupt and the power plant was sold to another business based in Abu Dhabi. "My husband is a top-notch engineer. He knows the plant through and through," Veronika explained.In 2003, Dirar was promoted to technical director of the power plant, the only one in Gaza. It now meets about 25 percent of the electricity demand in the Strip. Over the last seven years, it has been the Strip's main power supplier, making electricity available for eight hours a day.But in 2006, the plant was bombed, and later in the winter of that year, Hamas won the elections in the Gaza Strip and formed the majority government. In response, Israel imposed an economic blockade on Gaza, and made Egypt join in as well. If it weren't for Dirar, Israel could have succeeded in suffocating the Gaza Strip with this blockade."Dirar successfully restructured the power plant in Gaza," Veronika explained. "He made changes so that it could use fuel supplies from Egypt instead of fuel that previously came from Israel. This made electricity cheaper for Gaza – and hurt Israel's interests." Veronika believes that this innovation introduced by her husband led to Israel holding a grudge against him."We had a home," she said. "We had a good life. It may sound cynical but we lived as if there were no war, no siege, no trouble. Two weeks before the Gaza War in 2008 we had our youngest son Usama." As his mother speaks, Usama is following her every word.
"Dirar was born in Jordan, and Jordan doesn't grant citizenship to Palestinians," Veronika recalled. "All he has is papers confirming his refugee status. I made all the arrangements for Dirar to be granted Ukrainian citizenship. I spent six months arranging all the formalities for it to happen. On January 27, 2011, Dirar and I went to Kharkov with our youngest son, leaving our five other children in Gaza. My husband went to pick up the passport on the due date, the 18th, and waited till the office closed, but they never gave it to him. Dirar sent me with Usama back to Gaza, while he decided to stay for a few days in order to meet his brother in Kiev. He had not seen him for 16 years."The next day, Dirar's brother, who had flown in to Kiev from Canada, called her to tell her that they never met. Dirar was also not answering his phone. Veronika left her children with her husband's family, crossed the tunnel to Egypt, and from there returned to Ukraine. While on her way, she received a very strange text message from her husband: "Salam. I need to lie low. We're going to Umrah. Will call.""This wasn't like him, not his choice of words, not his style. Until I got that text I was still hopeful that he was either kidnapped for ransom or held by the Ukrainian security services. After it, I had no doubt it was Israel's doing," Veronika explained.Since then, Veronika has been paying for a near-endless amount of legal help, but all she has managed to win so far was one telephone call from her husband from prison. "My phone rang and someone who sounded like Dirar told me that he wants to speak with me in Arabic. We never spoke Arabic with each other. I replied in Russian and the call was disconnected," she said.She received some information from Oubad Bilal, who was also a prisoner at the same detention facility. He said that their captors tortured Dirar, and kept him in a tiny cell 1-by-1.5 meter cell. They tried to scare him by threatening to kill his wife and children, and played recordings of women crying and shouting to break him emotionally. Veronika decided then that she shouldn't try to get a permit to visit her husband in prison, as that would likely only give his torturers a way to use her to break him.Who was Israel after?"I don't believe any of charges laid against him. First they were demanding him to tell them where [Gilad] Shalit was. Then they accused him of being involved with missiles, and after that of training militants in a mosque which is totally bizarre and ridiculous. And yet why is it they never launch the trial?" Veronika said. Veronika and her family are sure that Israeli special services were after someone who'd prove to be important enough to swap for Shalit; now, they just don't know what to do about Dirar. "They were tracking him from the very border. They knew he was bound for Ukraine. They were in cahoots with the Ukrainian special services," Veronika said.Several suspicious episodes surfaced after Dirar left Gaza, but the family didn't take them seriously at the time. In Egypt, he was questioned by special services, but it didn't seem to be out of ordinary – all Palestinians, even cancer patients, had to be questioned during the Mubarak regime. He was also detained a few times for up to 10 hours by police in Jordan where he visited his family. This didn't alert anyone either, as Jordanian authorities are generally very suspicious of all Palestinians, despite the fact that they account for 80 percent of the population. When Dirar told the Jordanian special services that he would like to rejoin his family in Gaza, they denied him the permission. This, again, was a routine hazard. Kharkov's authorities didn't issue him a passport, despite the prior arrangements. But Dirar thought it was merely yet another bureaucratic hurdle, and took a train to Kiev to see his brother, thinking he'd pick up his Ukrainian passport on the way back in a few days.
Does Ukraine allow kidnapping on its territory?Veronika holds the Ukrainian authorities responsible for participating in – and covering up – her husband's kidnapping. She stressed that no one in the Ukrainian Security Service (SBU) has asked what her husband looks like, or what personal possessions he had on him. She saw an official sign a missing persons report she filed, as well as a paper that said all borders would be closed should Israel attempt to transport him out of the country; that paper has disappeared without a trace.She was astounded when the SBU denied a request by telling her there were no security cameras at the station where her husband was pulled off his train. Wasting no time, Veronika found the train's conductor. He affirmed that her husband was on that train and described the kidnappers, but denied all his statements later on. His superior turned out to be "on vacation" when Veronika and her lawyer came to see him."They keep saying he hasn't left Ukraine. Israeli television has shown that Israel has him, and three days before the exchange Netanyahu said they had my husband. Shalit's father called me and via teleconference asked me to exchange his son for my husband, and Ukrainian authorities still have no idea who took my husband and how," Veronika saidBefore her husband's kidnapping, she was reasonably positive towards Israel, and favored freeing Shalit. But she couldn't believe that Israelis hadn't condemned the kidnappings of Palestinians all over the world. She made a public statement saying that neither she nor her children, all citizens of Ukraine, would leave the Gaza Strip while her husband was being held captive. In response, the Ukrainian Foreign Ministry said that Ukrainian citizens can remain in the territory of another state for up to nine months.The crime of being Dirar"My husband has a cropped beard – they consider it evidence. He was a handsome, educated, stately man, and he held an important position – that's all the evidence they have," Veronika said."He's in prison in Ashkelon," he said. "He isn't allowed to read books or newspapers. For eight months he was trying to get a TV and a fridge. Before he was arrested he weighed 98kg, he was very handsome. Now he looks like a shriveled old man – he weighs 61kg, he has a heart condition, asthma, problems with kidneys and digestive system, his eyesight is falling rapidly. No doctors are allowed to tend to him, and the only medicine he gets is aspirin." Veronika's voice doesn't catch, but her cheeks flush an angry crimson. At one point, Dirar decided to go on a hunger strike, and was force-fed."Out of all the possible medical tests, they did only one, to find out whether he was lactose-intolerant. That's all. In Israel people spend 10, 20, 30 years in jail without being convicted. There's no constitution there and no normal laws. And my homeland, Ukraine, does Israel's bidding," Veronika said.  The Red Cross has managed to pass a couple of her husband's letters on to her. He is allowed to write only in Arabic, but he managed to smuggle one note in Ukrainian, telling Veronika how much he loves her – the note had heart-shaped emoticons in it. Dirar never receives any of her letters.Veronika said that only ignorant people would believe the accusations against her husband regarding his involvement in developing missiles. Her husband is an electrical engineer, and he finished his post-graduate program at the Kharkov National Academy of Municipal Economy. "The Academy of Municipal Economy doesn't teach anything about missiles or bombs, and no field commander would need Ukrainian citizenship," she explained.An anonymous member of Hamas told me that no commander, whatever his rank, travels to another country without a security escort. The visits are always planned beforehand, and the commanders are never left unprotected. Dirar was just working at the plant, but had no connection to Hamas. And the technical side of the power plant's processes can't be important enough for Israel to kidnap him, as plant continues to work just fine without him. The Hamas source is sure that the Israeli special service was desperate to find someone they could exchange for Shalit, but failed, which is why there has been no progress in Dirar's case for more than a year now.Even in Israel, some say that the special service kidnapped the wrong man, but they don't know how to resolve the situation, so they are continuing to lie. "They're kings today, but they can become lackeys tomorrow. They will get what they deserve," Veronika said.For 12 years, Veronika was a happy wife and mother, unconcerned with politics. Now she knows all the laws and declarations. She learned how to be an Iron Lady, both a mother- and father-figure for her kids. She learned how to drive a car, and to talk to lawyers and journalists."Dirar is still an employee at the plant, but without pay. We're living on our savings, but we'll be running out of them soon. And my mom died while all this was happening," she said. Veronika learned to draw to relieve her pain: She draws her kids and Dirar. She is waiting for him in Gaza, though two years ago they were thinking about moving to Ukraine, when he applied for that ill-fated citizenship.
Nadezhda Kevorkova, RT
You can share this story on social media: