Gangnam Gaza Style: Palestinians remake viral video to showcase hardships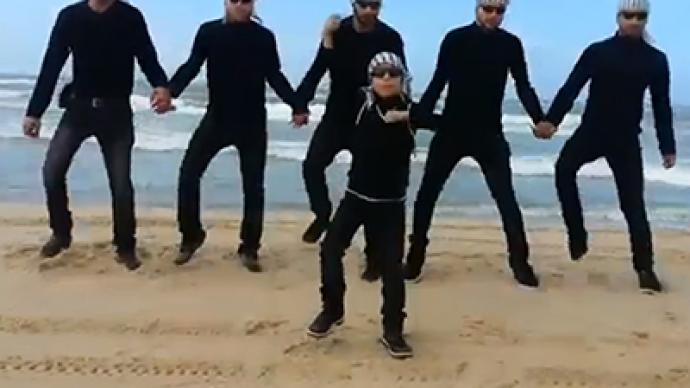 A mobile phone, a sense of humor and an internet connection were all a group of Palestinians needed to illustrate the hardships they face every day. The men made a parody of the South Korean hit 'Gangnam Style', naming it 'Gangnam Gaza Style.'
The entertaining video shows five adult Palestinians and one child dancing in identical outfits. But it's not all fun and games – because in between the dance moves, the men showcase the troubles of the region.
A handwritten sign taped to one of the singer's backs has the word 'unemployment' spelled out in English and Arabic.

Later on, the group's car runs out of gas, causing them to push it – while walking backwards and continuing their 'Gangnam Style' dance.

They arrive at a service station, only to realize that a sign stating 'no fuel' is covering the gas pump.

After realizing no gasoline is available, the men are forced to ride donkeys as their mode of transport.

"The message is about our suffering, prisoners, unemployment, and lack of electricity that causes us problems," group member Walid Afaghani told Reuters.
The United Nations estimates that Gaza unemployment is currently at more than 40 per cent, while local economists put the figure at around 60 per cent.
An image grab taken from a video uploaded on YouTube by user Mahmoud Medo
Relaying such a hefty message to the world was surprisingly easy for the young men – the video was filmed entirely on a mobile phone, and no fancy editing or directing was used during production. 
"Our instruments are simple ones…thank God we can send a message to the world through our mobile phones," group leader Muhamnad Barakat said. 
The conditions are a result of the Israel's blockade on Gaza. Tel Aviv imposed restrictions on trade to Gaza in 2001 following a Palestinian uprising and tightened them once again in 2007 after Hamas seized power in the coastal enclave adjacent to Egypt.  

The Palestinian Authority – especially the Gaza Strip – is facing a severe financial crisis. It relies heavily on money from donor countries to stay afloat. However, it is deeply in debt to banks and the private sector.

"The Palestinian Authority is in deep financial trouble and the economy has been taking a nosedive in recent years because of the lack of a clear economic policy and the restriction imposed by Israel on Palestinian imports and exports," Economist Mohsen Abu Ramadan told Press TV.

The video's soundtrack is a cover of Psy's 'Gangnam Style,' which was the most Googled term of 2012 and became the first online video to reach 1 billion hits on the internet. The song mocks Seoul's Gangnam District, whose residents have a reputation for being upper-class and pretentious.
An image grab taken from a video uploaded on YouTube by user Mahmoud Medo
An image grab taken from a video uploaded on YouTube by user Mahmoud Medo
An image grab taken from a video uploaded on YouTube by user Mahmoud Medo