Palestinian engineer "handcuffed, hooded by Mossad agents" in Ukraine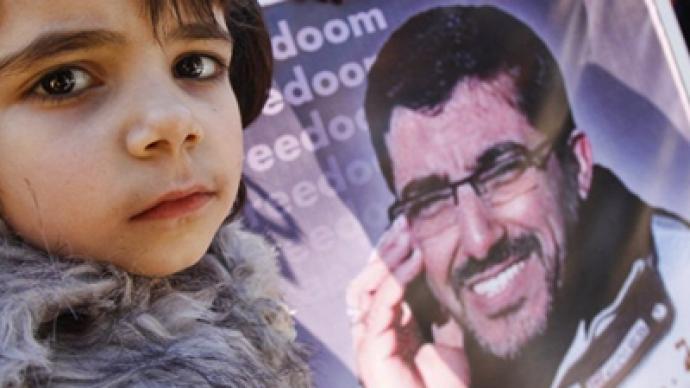 A Palestinian engineer claims Mossad agents kidnapped him from a train passing through Ukraine before taking him to Israel. Ukrainian security officials say they had no prior knowledge of the operation.
Dirar Abu-Sisi alleges that he was taken by Mossad agents from an overnight train to Kiev and put on a plane to Israel, where he now sits in prison. Relatives told the New York Times that Abu-Sisi, who is married to a Ukrainian woman and father to six children, was in the country applying for a residency permit. A day after his February 18 disappearance, Abu-Sisi surfaced at the Shikma prison in Israel. The Palestinian Center for Human Rights (PCRH), a Gaza-based NGO, was allowed to visit Abu-Sisi in jail. According to the account he gave to a PCHR lawyer, he was on a train from Kharkov to Kiev when three men, two in Ukrainian military uniform, entered his compartment and asked him to show his passport. After he refused, the men allegedly took his documents by force and then forced him to disembark the train at the next station. Abu-Sisi claims he was then handcuffed, hooded and taken by car to Kiev, where he was held in an apartment with individuals who identified themselves as members of Mossad. The statement goes on to claim Abu-Sisi was interrogated then and there by the alleged Mossad agents.He alleges that he was then put on a four-to-five hour flight to an unknown location. About a half-hour after landing, he claims he was put on the plane for another hour long flight. When that flight landed, Abu-Sisi found himself in Israel. He told the PCHR lawyer that he was then held for 25 days without contact with a lawyer while being subjected to extensive interrogations. Meanwhile, Vladimir Rokitsky, deputy head of the Security Service of Ukraine (SSU), said in a press conference that his agency has "no information about how he [Dirar Abu-Sisi] left Ukraine." Rokitsky went on to say that Ukrainian law forbids the SSU from assisting foreign intelligence agencies in such operations. Ukraine's Foreign Ministry has summoned the Israeli ambassador to explain the incident, and UN officials have also commented on the kidnapping. "We are very disturbed that a person, according to his relatives, disappeared in Ukraine and after a very short interval appeared in a completely different country," said Maksim Butkevich, a spokesman at the Ukraine office of the United Nations High Commissioner for Refugees.According to Interfax-Ukraine news service, both the Palestinian and Israeli Embassies in Kiev have declined to comment on the disappearance, though officials in Israel confirm that Abu-Sisi is in their custody. The fact that Abu-Sisi turned up in Israel a day after his abduction has raised questions over whether the SSU had advance knowledge of the operation. Israeli officials have given no information as to why Abu-Sisi is being detained. However, his wife Veronika said the abduction was part of an Israeli plot to sabotage operations at the sole power plant in the Hamas-controlled Gaza Strip, where Abu-Sisi had been working as a manager.Ihab al-Ghussein, spokesman for the Interior Ministry of the Palestinian National Authority, called on Ukrainian officials to "uncover the facts" and "take responsibility for a crime committed on its territory" in a statement on March 18, while Ukrainian Prime Minister Nikolay Azarov was on an official visit to Israel. Azarov said he had "no clear information" on the case.
You can share this story on social media: