​85yo Palestinian man dies after 'Israeli teargas canister landed in his home'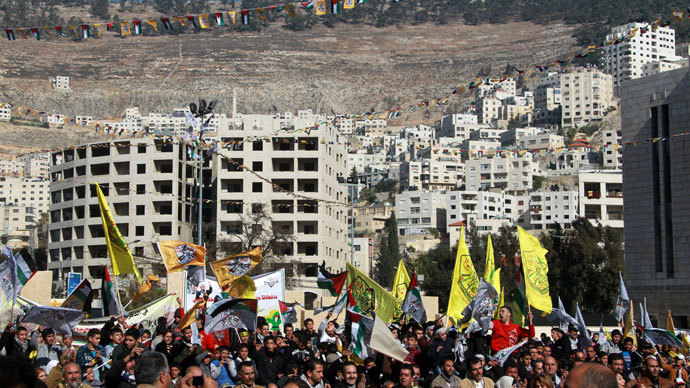 An 85-year-old Palestinian man died after inhaling teargas used by Israeli forces during their clashes with Palestinian youths, who were celebrating the anniversary of Fatah, eyewitnesses told Reuters.
Saeed Jaser Ali died on Thursday in hospital, where he was taken after an Israeli gas canister landed a day earlier in his house in the village of Kufr Qaddoum near Nablus in the northern West Bank.
Eyewitnesses said that was one of dozens of teargas canisters fired by Israeli soldiers, after a celebration of the 49th anniversary of Fatah, the party of Palestinian president Mahmoud Abbas, resulted in a clash with police.
The clash was confirmed by an Israeli military spokeswoman.
"Last night, a violent riot took place in the village of Qaddoum in which Palestinian residents hurled rocks at security forces, who responded with riot dispersal means," she told Reuters.
The 85-year-old man, Saeed Jaser Ali, thus became the first casualty in the conflict with Israel in 2014.
Last year saw a dramatic increase in Palestinian casualties in the West Bank, according to Israeli human rights group B'Tselem.
"Three times as many people were killed in the West Bank in 2013 as in 2012," reads the group's report issued December 30, 2013. "According to the data for the past year, Israeli security forces killed 27 Palestinians in the West Bank in 21 separate incidents and nine Palestinians in the Gaza Strip in seven incidents."
According to B'Tselem, Palestinians killed three Israeli civilians and three Israeli soldiers in 2013.
US Secretary of State John Kerry is arriving in the region Thursday for a four-day visit, during which he will try and advance the US-brokered peace talks the Israelis and the Palestinians resumed in July, following a three-year hiatus.
The visit comes two days after Israel freed the third of four groups of 104 long-serving Palestinian prisoners set for release under agreement struck last summer. It is however expected that the move will later be followed by the announcement of new settlements being constructed in the occupied West Bank.
Palestinian authorities have already warned they would react to the announcement by seeking membership in various international organizations, including the International Criminal Court, where they would call for Israel's prosecution for war crimes and violations of international law.
You can share this story on social media: