3,000 Palestinian prisoners go on hunger strike to aid Prisoners Day protest (PHOTOS)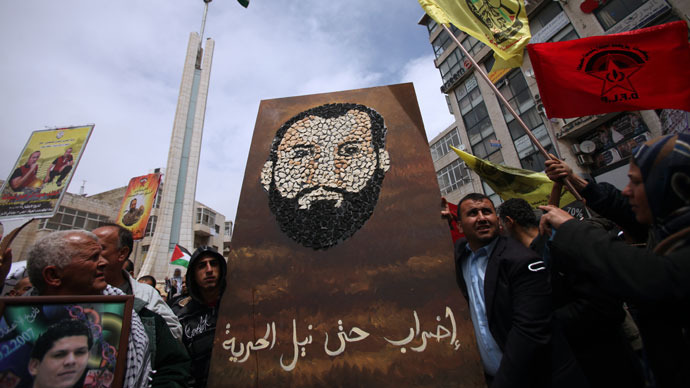 Thousands of Palestinian prisoners have declared a hunger strike to support Prisoners Day, an annual event dedicated to 4,713 prisoners being held in Israeli jails. Fierce rallies demanding their release have reportedly been met with tear gas.
Palestinians across the West Bank and Gaza attended marches and rallies on Wednesday, urging the international community to intervene and for pressure to be put on Israel in order to release some of the Palestinian prisoners.

Nearly 600 relatives of prisoners gathered for a sit-in in the rain at Arafat Square in central Ramallah after which some of them marched towards the nearby military prison at Ofer.

As activists reached the Ofer prison perimeter they tore down 50 meters of the prison fence, mounting a Palestinian flag on prison grounds.

"After around four minutes of being at the fence, Israeli soldiers showed up. They fired tear gas, rubber bullets, and sound bombs at the protesters," al-Akhbar newspaper quoted spokesman of the Popular Struggle Coordination Committee, Abdallah Abu Rahmeh as saying.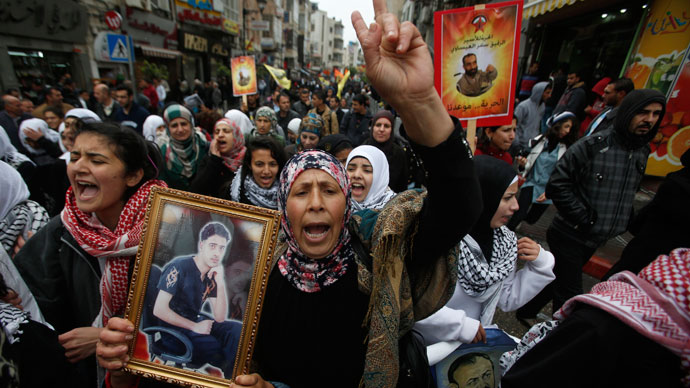 "It is necessary to pressure Israel to release the Palestinian prisoners and hunger strikers," he added.
In Gaza, hundreds of people marched from central Gaza City to the offices of the International Committee of the Red Cross, AFP reported.

Another rally was being held in the northern city of Nablus.

Events to mark Prisoners Day began on Tuesday in Gaza City where youngsters released thousands of balloons into the air, each bearing the name of a prisoner.

Primarily Palestinian activists are calling for the release of those on the hunger strike that has been lasting for more than 250 days. Already dubbed one of the longest strikes in history, it stirred mass outrage and weeks of street protests.

The fates of at least five of the prisoners, including Samer Issawi, are now central to the protesters.

Samer Issawi, a 32-year-old from an Arab suburb of Jerusalem, is said to be in a critical condition with his low heart rate meaning he could die at any time.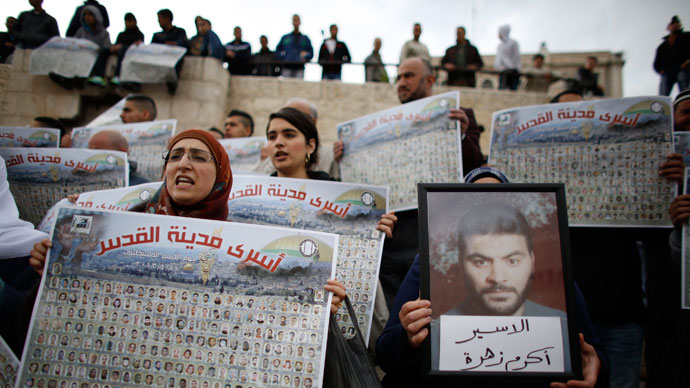 As Israel seeks to end the Palestinian prisoner's hunger strike, Issawi was offered to stop his fast in exchange for commuting his decades-long sentence to one year behind bars, Reuters reported Wednesday citing a Palestinian official.

"We don't want to see this man commit suicide," an Israeli official was quoted as saying. "There are elements on the Palestinian side who are eager to exploit a tragedy."

Earlier an Israeli official said they were ready to deport Palestinian Essawi to an EU or UN country, but allege the prisoner has refused.
Issawi was initially convicted of opening fire on an Israeli bus in 2002. He was released in 2011 along with over 1,000 Palestinian prisoners in exchange for an Israeli soldier held hostage by the Hamas Islamist group in Gaza.

But last July, he got re-arrested for what Israel called a violation of the terms of his release by crossing from his native East Jerusalem to the West Bank. Now he might face his original term behind bars and stay in jail until 2029. The prisoner has been struggling to regain his freedom by July this year.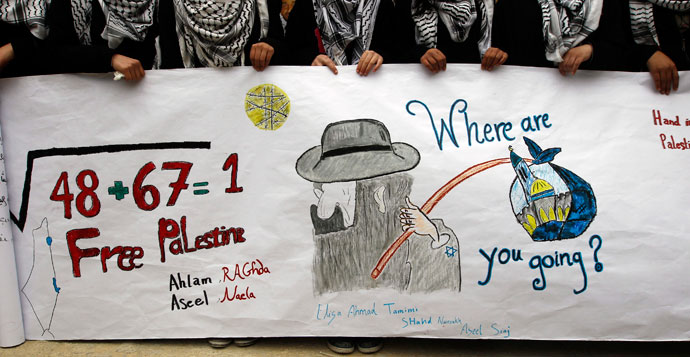 Palestinian officials have called on Israel to send Issawi to Ramallah to receive a year of medical treatment after which Israel would allow him to return to neighboring Jerusalem. However, Jerusalem rejected the offer.

Rights group B'Tselem puts the number of Palestinians held by Israel at 4, 713 with most of them Palestinian men from the West Bank and Gaza convicted of participating in terror attacks. According to the group, 169 of them are held under administrative detention, without formally being charged.
The Palestinian Prisoners' Society says more than 215 children and 14 women are in jail.

You can share this story on social media: