Mass Shiite protests sweep Pakistan after deadly bombing claims 81 lives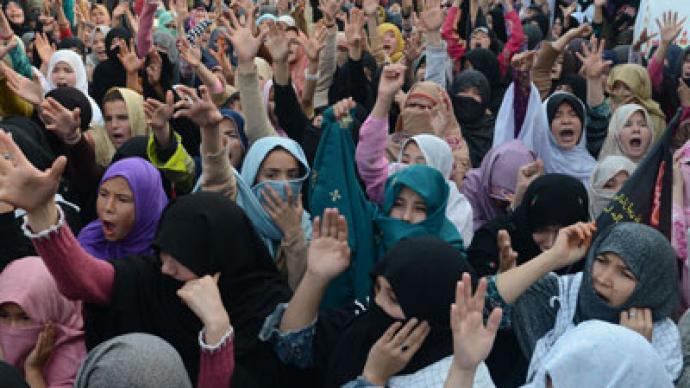 Pakistani Shiites gathered by the thousands in a unified mass protest against extremists responsible for a bombing at a crowded market that killed 81 and wounded hundreds.
More than 1,500 Shiites protested on the streets in the eastern city of Lahore, and smaller-scale protests were held in Islamabad, Karachi, and at least 12 other cities. Some 4,000 women began a sit-in protest in Quetta, the site of Saturday's deadly blast. The outraged Shiites refuse to bury their dead until authorities take action against extremists responsible for the attack. After friends and family dug through the ruins and rubble to recover corpses of loved ones, they gathered around Shiite mosques in Quetta with the bodies of 60 slain victims, debating whether to protest the bombing by refusing to bury the dead, following the same protocol as they did after January's massacre. "So far, we are not going home. We are not burying the dead," said Dawood Agha, a Shiite leader in Quetta.The banned al-Qaeda-linked militant group Laskhar-e-Jhangvi, more widely-known as LeJ, has openly claimed responsibility for Saturday's carnage, as well as January's billiard hall blast that killed 92 and the mosque attack that claimed 24 lives. Not a single suspect has been arrested in connection with January's billiard blast yet, the chairman of Shia Conference told AFP.Baluchistan secretary Akbar Hussain Durrani said authorities have arrested suspects for Saturday's blast, but there is a large trust gap between Shiites and government officials. "Not one month or week passes here without the killing of a member of the Hazara community," he said. "Why is the government — both central and provincial — so lethargic in protecting Shias?"
The first two months of 2013 have claimed almost 200 victims in sectarian attacks in Pakistan. The bomb, transported in a water tanker, exploded in the middle of a crowded marketplace in a Shiite dominated area on the edge of Quetta, the capital of the southwestern Baluchistan province."We all know it is LeJ," said Hasan Raza, a Shiite activist. "We want the government to act now and take action against the terrorist group." Saturday's deliberate mass-casualty attack on Shiites has highlighted the extremism they face living in Pakistan, which is predominantly Sunni. Shiites account for around a fifth of the country's 180 million people.
You can share this story on social media: