Election Day bombings sweep Pakistan: Over 30 killed, more than 200 injured (LIVE UPDATES)
Violence was reported across Pakistan as millions vote in landmark elections, the first peaceful turnover of power in the country's 66-year history. The Taliban has vowed further attacks amid a string of blasts and shootings rocking the country.
19:20 GMT: Nawaz Sharif declares victory in the elections, claiming that his party is the clear winner. "Please pray that by morning we're in a position that we don't need the crutch of coalition partners," he tells supporters in Lahore. Results are still incoming.

17:30 GMT: One person died and several others were wounded in clashes between supporters of the Pakistan Muslim League – Nawaz (PKM-N) and Pakistan Tehrik-i-Insaf parties in the city of Rawalpindi near the country's capital, local media report.

16:48 GMT: At least 15 people were killed in a blast targeting an election rally in Nasirabad in Baluchistan Province, the country's south-west, DawnNews reports.

15:22 GMT:
#Pakistan election violence: #MSF teams have treated 110+ blast victims in Hangu, Kurram Agency and Lower Dir w/ MoH in last 5 days alone

— MSF UK Press Office (@MSF_Press) May 11, 2013
15:01 GMT: A loud blast has been heard near New Nazimabad Gate in Karachi, according to Radio Pakistan. At least two people are reportedly killed and three others injured in what appears to be a suicide attack.

14:58 GMT:
Proud of Pakistanis who have voted today, ignored Taliban threats and risked their lives. #VoteTeerKa#Vote4PPP#JiyalayTeerChala

— Bakhtawar Bhutto Z (@BakhtawarBZ) May 11, 2013
13:09 GMT: One person was killed and five others injured in a clash between two armed groups of the Pakistan People's Party and one of its breakaway factions – PPP SB (Shaheed Bhutto) – in Dadu, a town in Sindh Province, local media reported.
13:00 GMT: Polling stations are closing. Ballot counting begins.

12:41 GMT: A polling station outside the Islamia School in Nawabshah, Sindh Province, was set ablaze by unidentified men, Dawn.com reported. 
12:32 GMT: Gunshots were heard in the city of Nawabshah, south-eastern Pakistan, local media reported.
11:44 GMT: A total of 25 people have been killed and 198 injured across Pakistan in Election Day violence, Dawn.com reported. Most of the victims are from the city of Karachi.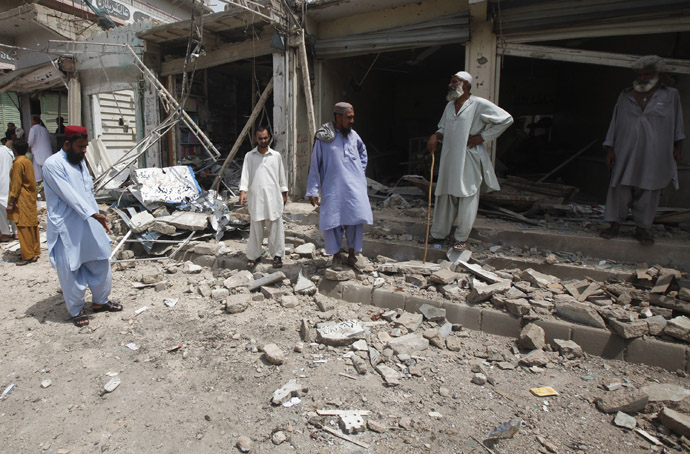 11:33 GMT: Clashes and grenade attacks between two rival groups left four people dead and 23 injured in the Balochistan towns of Chaman and Kuchlak in the north-west of Baluchistan Province, local media quoted police as saying.
11:12 GMT: Clashes between rivaling supporters have temporarily suspended voting in Naushahro Feroze's NA 212 constituency, local media stated. Polling was also put on hold at a high school in Nawabshah 214 constituency, after a man was discovered allegedly stamping ballot papers at a women's booth.
10:32 GMT: Another National Assembly candidate was kidnapped in Karachi, Geo News reported.

Eyewitnesses report firing at Shaheen Public School#Karachi NA253 #GeoElections

— Geo English (@geonews_english) May 11, 2013
10:26 GMT: Seven people were injured in a blast at Peshawar's Khazana High School, Express News reported. A child and police officials were among the injured. A quick response force and bomb disposal squad are on the scene.
09:51 GMT: At least five people were injured after gunmen fired shots at the northwestern Khyber tribal agency, local newspapers stated.
09:45 GMT: A fourth blast rocked Karachi, injuring five, local media reported. The bomb was planted in a car near a polling station.
09:40 GMT: Shots fired near a polling station in Chaman, Baluchistan, have killed four, and two cars were set ablaze, according to local media.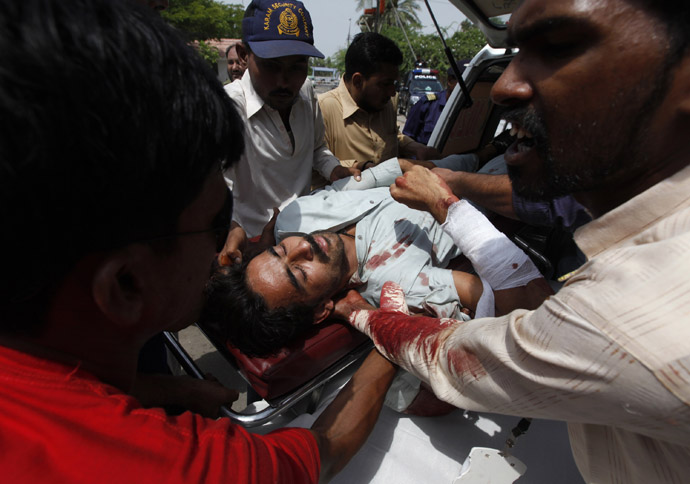 09:26 GMT: A school in southern Pakistan's Kati Pahari was seized by armed men, who kicked out people who were casting ballots and voted on their behalf, Dawn.com reported.
09:02 GMT: Polling in Kashmore's Karampur district was closed after violent clashes saw one dead and eight injured, local media reported.
09:01 GMT: At least 20 people were injured at different polling stations in the western city of Sukkur. Also, an unidentified assailant in Sukkur fired at the vehicle of Sindh's former special assistant, Chief Minister Pehlaj Mall.

08:55 GMT: Several polling stations were closed in Thull district near Jacobabad due to violent clashes between rival groups that injured multiple people, Dawn.com reported.

08:54 GMT: A bus explosion in Karachi's Peerabad area of Qasba Colony killed ten and injured several others, local media reported. 
08:40 GMT: A hand grenade attack shut down polling in Karachi's Baldia Town. Police have cordoned off the area.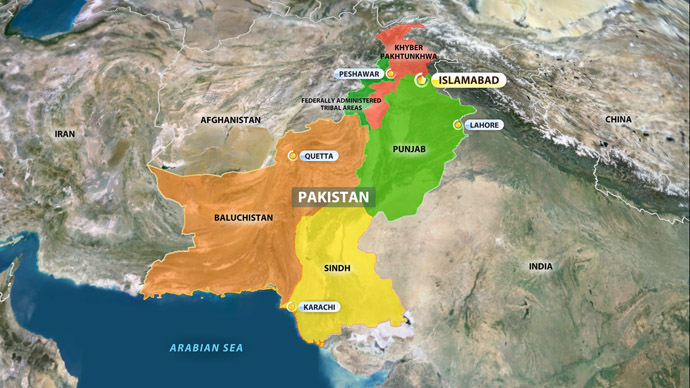 08:30 GMT: The death toll in the Karachi blast has risen to 11, AFP reported.
08:28 GMT: A hand grenade attack killed six people at an ANP polling camp in Kuchlak, Quetta District in Pakistan's Balochistan.
08:27 GMT: An explosion at Toorghar in Peshawar killed two police officers and injured four others, Radio Pakistan reported.
08:02 GMT: Polling in northeastern Charsadda was suspended after clashes injured five. 
08:01 GMT: Three dead, five injured in clashes at a polling station in Chaman, Pakistan, according to local media. 
07:45 GMT: The son of senior leader Imtiaz Shaikh of the Pakistan Muslim League (PML-F) was injured in a clash between two opposing political groups in Shikarpur, Pakistan, Dawn.com reported.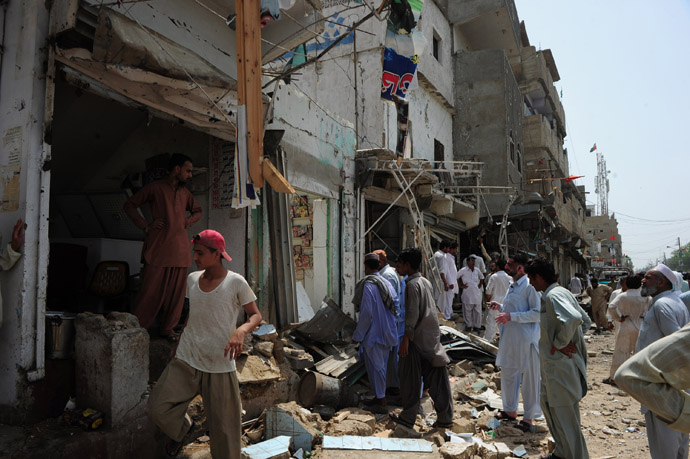 07:40 GMT: Two explosions were heard in central Balochistan, Pakistan, with at least one person reportedly killed and seven injured. Militants targeted voters casting their ballots, local media quoted police as saying.
07:36 GMT: Two more people were injured in a blast in southern city of Hub.
#Pakistan: 15 people reportedly injured in a blast outside polling station in Mardan. sixth blast of the day with... fb.me/2dLHSiJSd

— Lucy Kafanov (@LucyKafanov) May 11, 2013
07:20 GMT: A polling station was bombed in Pakistan's Swabi district in Khyber Pakhtunkhwa Province.
07:15 GMT: An explosion was heard near the ANP political office, Al Jazeera reported.
07:09 GMT: A blast was reported near a police station in Saddar, and shots were fired in Bannu, in the Khyber Pakhtunkhwa Province, local media reported.
07:07 GMT: A polling station has been bombed in the northeastern town of Jamrud.
07:06 GMT: The Pakistani Taliban claimed responsibility for the blast in Karachi, AFP reported. "We proudly claim responsibility for this attack, we carried it out and will carry out more of the same," Taliban spokesman Ehsanullah Ehsan said.
06:40 GMT: Two were killed during a shootout between two political groups at a polling station at the state Renalkhurd boys high school, local media reported.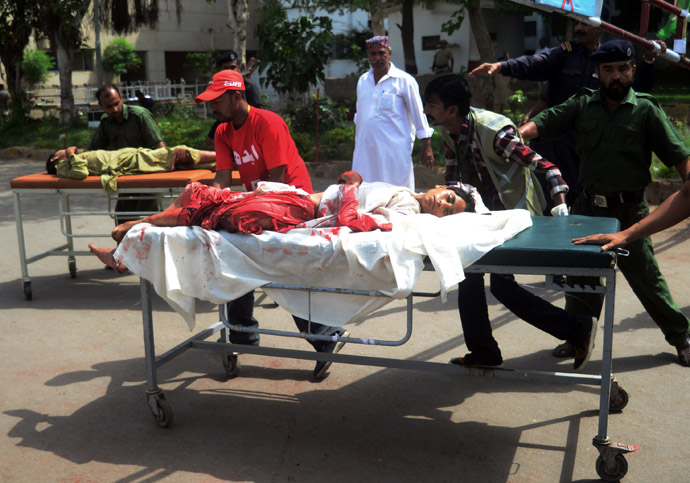 06:30 GMT: A blast strikes a school designated as a polling station on Peshawar's Charsadda Road, injuring 12 people. Rescue teams are on their way to the site, Dawn.com reported.

06:15 GMT: Pakistani Prime Minister Mir Hazar Khan Khoso condemned the Karachi blasts, and ordered immediate medical treatment for the injured, Radio Pakistan reported.
06:10 GMT: A child aged three to four was among the injured in the twin blasts in Karachi, according to AP video footage. 
PHOTO: Kids among injured as election day deadly bombings sweep Pakistan #PakVotes#Karachitwitter.com/RT_com/status/…

— RT (@RT_com) May 11, 2013
06:00 GMT: Two bombs rocked Karachi, Pakistan killing over ten people and injuring around 50 as the country votes in its first-ever democratic election. One of the blasts targeted an election candidate.
The blasts targeted the political offices of the Awami National Party (ANP), one of three secular liberal parties that have been battered by Taliban attacks, AFP quoted police officer Shabir Hussain as saying.
One blast was reported in the Landhi area of the port city, according to local media. ANP candidate Aman Ullah escaped unharmed from a bomb targeting him, local media reported.
Another explosion was reported in Karachi's Quaidabad near a polling station, damaging the window panes of several buildings and destroying eight shops.
You can share this story on social media: