Thousands protest US drone strikes in Pakistan
Thousands of people took to the streets in Pakistan's eastern city of Lahore to protest against ongoing US drone strikes, amid a rise in local protests against US tactics.
Around 5,000 demonstrators called on the US to immediately stop the drone assaults on the country. The event was organized by the Defence of Pakistan Council, which is comprised of 40 religious and political groups, AFP reported. 
Protesters chanted slogans to block NATO supplies being transported to Afghanistan through Pakistan. 
Recently, local residents have become more vocal against the US tactics, organizing increasing numbers of rallies. Just over one week ago, thousands of demonstrators protesting US drone strikes in Pakistan blocked a main road in the northern Peshawar province, used to transport NATO supplies to and from Afghanistan.
Pakistan's government often speaks out against US drone strikes, heavily criticizing the tactic and calling it a violation of Pakistan's sovereignty but critics accuse the government of not actively doing enough to stop the strikes.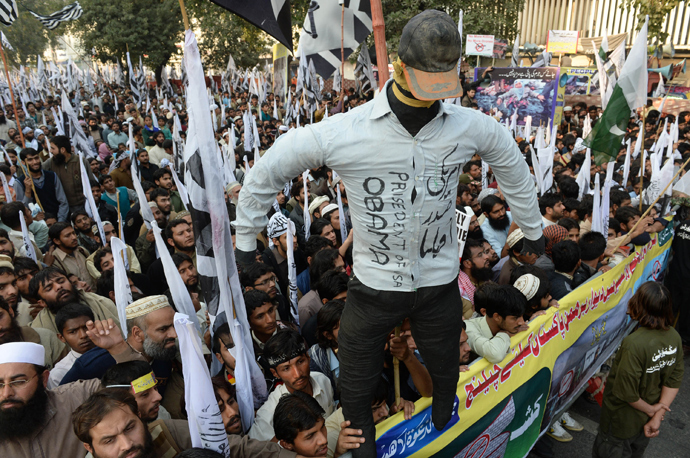 The US has also faced significant international pressures on account of its attacks. Amnesty International released a report in October, arguing that the US officials, who are responsible for carrying out the drone strikes, may have to stand trial for war crimes. It also listed extensive civilian casualties in Pakistan. Human Rights Watch has issued a similar report on Yemen.
Despite criticism, the US has carried out hundreds of drone strikes since 2004. In October, UN Special Rapporteur on Human Rights and Counterterrorism, Ben Emmerson, said that US drone strikes have killed 2,200 in the past decade, 400 of whom were civilians.  
Pakistan confirmed that "at least 400 civilians had died as a result of remotely piloted aircraft strikes and a further 200 individuals were regarded as probable non-combatants," Emmerson said in an interim report to the UN General Assembly.
Within the last week, one of Pakistan's major political parties published the name of what it believed to be the CIA's chief operative in Islamabad, after a US drone strike killed five people the previous week. The group was demanding that the spy chief face murder charges.
You can share this story on social media: