Year of OWS: LIVE UPDATES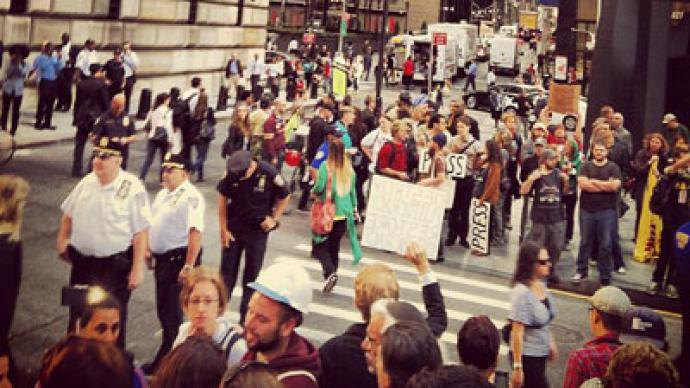 00:49 GMT: ­Number arrested at OWS in Lower Manhattan exceeds 180.
00:04 GMT: The crowd of protesters in Zuccotti Park is growing strong, with several hundred people present at the scene, RT's Anastasia Churkina reports from downtown New York.
­21:04 GMT: A photojournalist attempting to document the arrest of two protesters in New York earlier this afternoon is shoved to the ground by members of the NYPD. By mid-afternoon, it was reported that as many as 140 arrests had already been confirmed.

­21:00 GMT: Marchers in San Francisco have begun their rally down Market Street.

­20:56 GMT: In San Francisco, California, protesters are preparing to march for a #S17 demonstration on the West Coast.

­20:26 GMT: Demonstrators are preparing for this afternoon's general assembly by holding an impromptu concert in Lower Manhattan, complete with marching band instruments and a dance-along.

20:03 GMT:
Several reports received that independent journalists live-streaming today's action have been arrested, including journo John Knefel, who was allegedly violently detained by officers without provocation.
­19:50 GMT: The NYPD now says that 146 demonstrators were arrested by 3:30 pm local time, primarily for "disorderly conduct."
Sit-in demonstrators being arrested by white shirts. Image by twitter user @57UN
­18:15 GMT: Four people were reportedly arrested outside of the World Financial Center, two for wearing masks. Demonstrators are also reportedly being arrested after staging a sit in protest  outside of the neighboring Goldman Sachs Tower.

­18:00 GMT: Activists are reportedly converging on the World Financial Center, which houses Merrill Lynch, Dow Jones, the Wall Street Journal, American Express, and others, for a planned action. The Goldman Sachs Tower is also located adjacent to the complex.

Image by twitter user @tedalexandro
­17:38 GMT: At least seven reportedly arrested outside of Bank of America following  failed action.

17:18 GMT: "Splinter group surrounding bank of America chanting "bad for America" cop surrounding them," writes Jamie Kilstein, comedian and cohost of Citizen Radio. Kilstein said the police pushed the "kids" against the bank's wall, creating a cordon around them so other demonstrators couldn't get the names of those being arrested. "This seems to be a new police tactic" he tweeted minutes later.
Image by twitter user @JSuricz
New York's finest guarding the "Wall Street" Bull. Image by twitter user @kennethlipp
­17:00 GMT: Police made 124 arrests by 12:15 pm, mostly for "disorderly conduct" or impending "vehicular or pedestrian traffic," NYPD chief spokesman Paul Browne told the Wall Street Journal.

16:26 GMT: RT's Marina Portnaya says OWS activists and labor union members are fililng Zuccotti Park as police sirens are sounding throughout the area.
­16:15 GMT: Twitter user Elana_Brooklyn says the NYPD are radioing in for backup at Battery Park, though the reason remains unknown.
­16:00 GMT: OWS spokes council meeting is kicking off in Battery Park. More marches are reportedly planned to kick off soon.

15:50 GMT: 104 people have been arrested as of 11:30 am local time, says Gideon Oliver, the President of the New York Chapter of the National Lawyers Guild.
Protesters in Battery Park. Photo from ow.ly user OccupyNH
Photo from twitter.com user @portnayanyc
15:44 GMT: RT's Marina Portnaya has tweeted you "must show employee ID to bypass police and horses guarding entrance to #WallStreet."
15:30 GMT: Demonstrators are now marching from Bowling Green to Battery Park, located on the southern tip of Manhattan.
­15:15 GMT: Around 400 demonstrators amassed in Bowling Green Park amidst as heavy police presence, with speakers taking turns addressing a variety of political, economic and environmental issues.

15:00 GMT: Several reporters were among the dozens arrested for stepping off the sidewalk in contravention of police orders, the New York Daily News reports witnesses as saying.
­14:51 GMT: "Michael Aaron of #occupy is keeping arrest tally. Rough estimate of 100 arrests including rabbis, pastors @OccupyWallSt," Miranda Leitsanger tweeted.
14:35 GMT: OWS protesters reportedly regrouping around the Charging Bull sculpture in Bowling Green Park near Wall Street.
OWS protesters in Bowling Greek Park. Photo from instagram.com user occupyeye
Photo from twitter.com user @Timcast
14:15 GMT: Over 70 arrests made by 10 am local time says Gideon Oliver, president of the National Lawyers Guild.
Photo from instagram.com user moxann
­14:00 GMT: A woman is reportedly arrested for writing in chalk on the column of the Bank of America building.

Photo from twitter.com user @GioSafari
13:58 GMT: A group of 50 protesters barged into the lobby of the JPMorgan Chase building and eight of them were arrested, New York Daily News reports.
13:54 GMT: Miranda Leitsinger says police chased another demonstrator and tackled him to the ground, arresting him.
RT's Marina Portnaya is following developments from New York's Zuccoti Park, the epicenter of the OWS movement. She spoke with CHRISTOPHER HEDGES, a PULITZER PRIZE WINNING JOURNALIST and NYT BESTSELLING AUTHOR who says OWS mirrors the tactics and spirit of America's civil rights movement.
Watch the full interview with Christopher Hedges
­13:45 GMT: RT's Marina Portnaya says four wheelchair bound activists were detained for blocking a street.
Photo from twitter.com user @portnayanyc
13:49 GMT: Police are now said to be targeting individuals streaming live video. The official OWS Twitter feed reports two streamers have been arrested in the last ten minutes, with one of them streaming live from the police wagon.
13:45 GMT: Miranda Leitsinger from NBC News reports three more arrests at the corner of Broadway and Morris, in the heart of the financial district.
13:37 GMT: Police have reportedly grabbed several more people from the crowd amassed on the sidewalk and arrested them. The total number of arrests is currently unknown.
Photo from twitter.com user @Jeff5mith
13:30 GMT: NYPD on horseback are protecting the New York Stock exchange as the opening bell rings.
Photo from img.ly user stuntbrain
Photo from twitter.com user @punkboyinsf
13:27 GMT: Riot police are pushing protesters back from the intersection of Broadway and Wall Street.
­13:21 GMT: One demonstrator who was arrested isstreaming live from the police van for the time being.
13:09 GMT: Twitter user Sam A. reports police violently arresting a protester, pulling his hair and "drawing blood."
Photo from twitter.com user @PaliCali48 (Sam A.)
­13:00 GMT :Molly Crabapple, who is "live tweeting from the policevan,"  says everyone was just "yanked off of the sidewalk" by police.

­12:40 GMT: Police reportedly telling demonstrators to move off of the sidewalk as they are "blocking pedestrian traffic."

Photo from twitter.com user @portnayanyc
Photo from twitter.com user @portnayanyc