Ovechkin, Malkin and Co. – Russia's Olympic squad announced
Published time: 25 Dec, 2009 10:23
Edited time: 1 Jun, 2018 11:11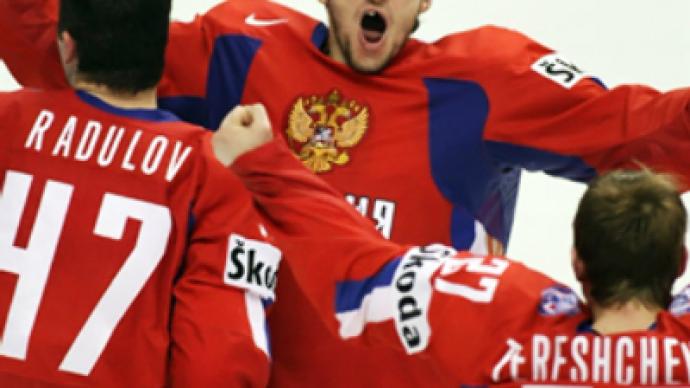 Russia's hockey coach Vyacheslav Bykov has announced his choice for the upcoming Vancouver Olympics, with stars like Aleksandr Ovechkin, Evgeny Malkin and Ilya Kovalchuk on the list.
The names of the lucky 23 were voiced early in the morning on Friday, eight of them are from the KHL, while the rest play for the NHL clubs in the US and Canada.
Russia's Olympic squad:
Goaltenders: Ilya Bryzgalov (Phoenix), Semen Varlamov (Washington), Evgeny Nabokov (San Jose);
Defenders: Anton Volchenkov (Ottawa), Sergey Gonchar (Pittsburgh), Denis Grebeshkov (Edmonton), Dmitry Kalinin (Salavat Yulaev, KHL), Konstantin Korneev (CSKA Moscow, KHL), Andrey Markov (Montreal), Ilya Nikulin (Ak Bars, KHL), Fedor Tyutin (Columbus);
Forwards: Maksim Afinogenov, Ilya Kovalchuk (both – Atlanta), Pavel Datsyuk (Detroit), Danis Zaripov, Alexey Morozov (both – Ak Bars, KHL), Sergei Zinoviev, Viktor Kozlov, Alexander Radulov (all – Salavat Yulaev, KHL), Evgeni Malkin (Pittsburgh), Alexander Ovechkin, Alexander Semin (both – Washington), Sergey Fedorov (Metallurg Magnitogorsk, KHL).
According to the rules of the International Olympic Committee, the lineup is not set in stone and changes in it may be made until February 15 in case players are injured, for example.
"Perfect lineup"

Russia's hockey community appears to be satisfied with Bykov's choice, saying all the best are present in it.
"The lineup is perfect! A very clever and right choice. I have no questions to the coaches. The defenders are high-class and able to shoot well. Everything is obvious in the attack – all the top players are there. As for the goalkeeper, the selection of the national team coaches is logical – the only man able to replace Evgeny Nabokov and Ilya Bryzgalov is Semen Varlamov," sports commentator Segrey Gimaev told Sportbox.ru.
Former NHL superstar Pavel Bure, nicknamed "the Russian Rocket", explained what a hard job Bykov had selecting the squad for Vancouver.
"I can compare the current situation with the manning of the team with the way Brazil chooses footballers into its national squad. They also have a big choice of good players. And they never get stuck on the place the player performs in – whether it is Europe or not. The criterion is the level of skill and physical conditions," he told Sport-Express newspaper.