OSCE monitors visit Slavyansk, expected to submit report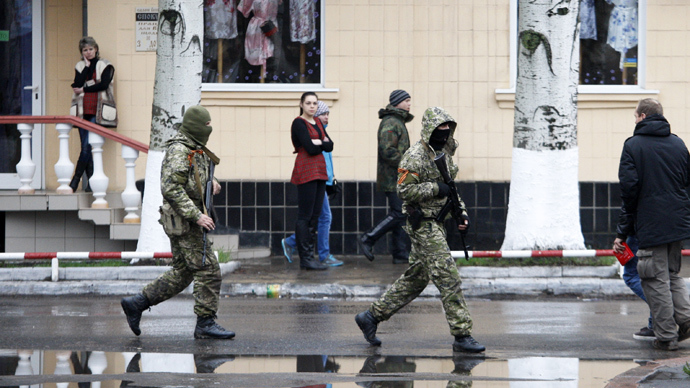 OSCE monitors have visited the besieged city of Slavyansk in eastern Ukraine, where Kiev announced an "anti-terrorist operation" against pro-federalization protesters, "to collect information" as the situation is feared to turn violent.
"Representatives of a special monitoring mission of international observers, which operate in Donetsk, visited Slavyansk to collect information," OSCE Project Coordinator in Ukraine Andrey Dziubenko has told RIA Novosti news agency.
International experts came from Donetsk to Slavyansk for a short visit. They left the city few hours after arriving.
Upon arrival their car was surrounded by protesters, who were shouting that they want to show European monitors what is really happening in Slavyansk and blamed European media for reporting an inaccurate picture. They first offered to take them behind the barricades, but then negotiated and refused to do so, local news website slavgorod.com.ua reported.
The mission that consists of civilian monitors will submit a report on their findings to the OSCE headquarters Vienna.
"Every day all groups of the monitoring mission send reports on the situation in the regions they work to OSCE. They send data on all regions. It will also cover the information about Slavyansk," Dziubenko said.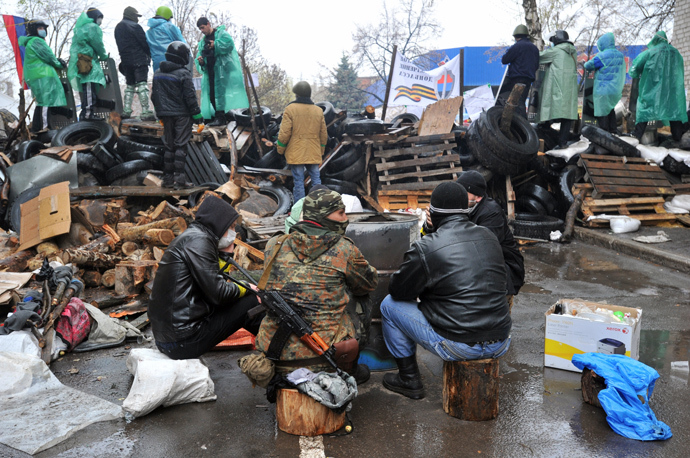 On Sunday, gunfire broke out in Slavyansk with casualties being reported on both sides. One man has been confirmed dead near the hospital. His identity has not been made public. Unconfirmed reports in Ukrainian media speculated that the man could be a journalist. Two protesters were also said to have been injured. New authorities in Kiev also said one security officer was killed in the siege.
A local man also told RT that Right Sector members, as he assumes, were shooting at him and other people as they were heading to Slavyansk to deliver humanitarian aid.
"We [two cars] were heading from Donetsk to Slavyansk to deliver humanitarian aid: food, medicine, warm clothes. On the way a pick-up truck was going on us. They started shooting. One [of our cars] took to the left. Another car turned around to go back. Three people were injured. One seriously," Sergey Karpachev has said.
Three teams of OSCE monitors, involving 103 people from 39 participating States, have been working in Donetsk, Luhansk and Kharkiv since the end of March. Their deployment for an initial period of six months was approved on March, 21.
While the mission's mandate covers the whole territory of Ukraine, monitors have initially been deployed to Kherson, Odessa, Lvov, Kharkov, Donetsk, Dnepropetrovsk, Lugansk and Kiev.
You can share this story on social media: