Georgian regime turns on families of opposition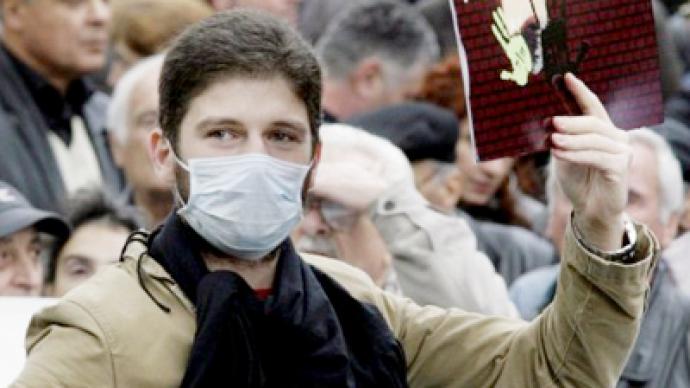 The opposition in Georgia is bracing itself for another battle against President Mikhail Saakashvili, with mass rallies set for later this month.
While some opposition leaders are determined to bring thousands onto the streets, their relatives are already tending to their wounds after receiving a warning shot from the government.Nevertheless, president Saakashvili advertises Georgia as a country shining with hospitality, even towards its political enemies."I want to tell the Russian people that they will always be welcome in Georgia – as partners, as tourists, as students, as businessmen, as journalists and simply as friends," he addressed Russian people while speaking in English in Strasbourg last year.Marina Bitsadze-Rodionova, who holds a Russian passport, describes the kind of hospitality Mr. Saakashvili is talking about in slightly different words.Marina Bitsadze-Rodionova, a relative of Nino Burjanadze – the leader of Georgia's opposition – told RT her story:"They insulted me, called me [a] Russian Mata Hari and trussed me up. One officer took a credit card from my pocket and went to photocopy it. The other one took out a pack of painkillers from my bag and said that if I protest those painkillers 'would [turn] into drugs in a second.'"Marina protested and was almost beaten up. This was the warm welcome she received at an airport in shiny Tbilisi a couple of weeks ago. The previous reception was just as hostile. Marina says her Russian passport is one reason, but not the only, for this."They would repeat it over and over again that I'm a relative of Nino Burjanadze. They [labored] over the fact that she went to visit Russia and met with Putin in person," the woman continued.Nino Burjanadze, the leader of the United Georgia opposition movement says attacks on her family have become regular, and "timely" too – ordered just days before a major opposition rally is to take place in Tbilisi."People are [fed up] with illegal actions of the government," she told RT. "People are really tired of undemocratic steps from the side of the government and of the PR of the government, which is showing the façade of democracy, while in fact we're living in a neo-Bolshevik style of the country."Rustaveli Avenue in the centre of Tbilisi has many landmark facades that people flock to see, including the parliament building. Its historic beauty, however, is in danger of being overshadowed by its explosive reputation, as a place where so many opposition rallies have been suppressed by police.Since Mikhail Saakashvili took office as president in 2004, opposition leaders have come and gone, but the methods of dealing with them remain very much the same."It's just an ordinary rule of game in Georgia," the leader of Free Georgia political movement Kakha Kukava explains. "If you're in opposition you do not have any rights – no human rights, no protection of constitution, no legal institutions, you're just persecuted by the ruling party and by all state institutions."Nino Burjanadze says she will not be broken down by attacks on her family, and her people would make it to the streets of Tbilisi no matter what. But Marina, who turned to doctors twice after dealing with the Georgian police, will be hard to persuade that hospitality is the heartbeat of Saakashvili's regime. She says she will now think twice before visiting her native country.
You can share this story on social media: