Saakashvili's overtures rebuffed by Moscow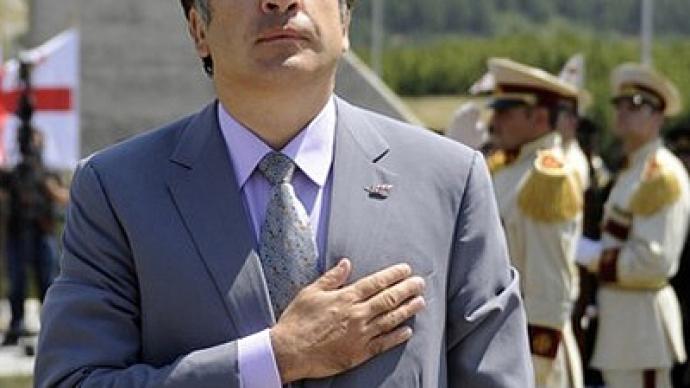 Russia says it does not believe Georgian President Mikhail Saakashvili's promise to refrain from using force against its former breakaway republics, and has no plans to start diplomatic talks with him.
"Saakashvili has backstabbed us before. The only way we will believe him, is if his statements are sealed by documents and guarantees,"said  the Russian Foreign Ministry's statement.The Georgian president set out his new policy in a speech before the European Parliament on Tuesday. He also called for a "deep, comprehensive dialogue" with Russian President Dmitry Medvedev.Moscow says it "has nothing to discuss with the current Georgian leadership"."Saakashvili is still trying to convince the international community about the existence of a conflict between Russia and Georgia, while in actual fact, the conflict is between Georgia and the people of Abkhazia and South Ossetia which as a result of another strongarm shady enterprise has ended in self-determination of the two peoples", says the Russian Foreign Ministry.Russia and Georgia have been at loggerheads since the pro-Western Saakashvili's election in 2003. Much of the animosity has focused on the status of the two republics of South Ossetia and Abkhazia, which were recognized by Russia and a few other states. In 2008, Russia forced Georgia to peace, as it defended the citizens of South Ossetia during Tbilisi's brutal attack on Tshinval (capital of what was then Georgia's breakaway republic) which ended with at least hundreds of dead."We will talk to Saakashvili, but on two conditions. He must admit responsibility for starting the war in South Ossetia in 2008, and he must stop calling the republics "occupied territories", says the Chairman of the International Affairs Committee of the Russian Parliament, Konstantin Kosachev.Saakashvili says his country needs "strategic patience" to lure South Ossetia and Abkhazia back into the fold, and to achieve "reconciliation" with Russia.But from Russia's side, it seems, this patience may only bear fruit when Saakashvili is no longer president.
Igor Ogorodnev, RT
You can share this story on social media: