Opposition march ends with 150 arrests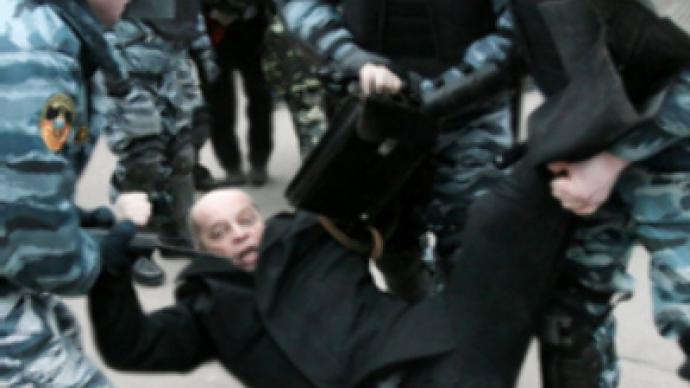 Around 150 opposition supporters have been detained in Moscow and St. Petersburg for holding unauthorised rallies. A total of more than 400 people took part in what they called Marches of Dissent organised by anti-Kremlin movements.
Some of the movement's leaders, including the head of the banned National Bolshevik Party, NBP, Eduard Limonov, were among those arrested. The NBP is outlawed by a court decision for their extremist activities.
In respone, several pro-Kremlin activists climbed onto the roof of one of the buildings waving flags and shouting: "Stop rocking the boat!" at the opposition activists.
On Wednesday, two leaders of the opposition coalition, Garry Kasparov and Eduard Limonov, met Moscow city authorities, who gave them the option of holding their rallies in specially designated places near the Kremlin. The opposition leaders refused, stating they wouldn't have enough time to inform their supporters of the changes.
Despite the fact no agreement was reached with officials on the location of the protest, the organisers said the demonstation would go ahead as planned.
The rallies were held to coincide with the Decembrist uprising which took place in Imperial Russia on December 12, 1825.
On December 13, around 200 opposition delegates from over 40 regions met on the outskirts of Moscow and founded a new movement called 'Solidarity'.
It comprises members of the United Civic Front, which is led by former chess champion Garry Kasparov, a number of members of the former Union of Right Forces (SPS) party, the Russian People's Democratic Union (excluding its leader, former Prime Minister Mikhail Kasyanov), some Yabloko party members and others.
The new anti-Kremlin movement, according to Kasparov "aims to peacefully dismantle" what they describe as the illegitimate regime ruling Russia.
You can share this story on social media: