Russian surgeon shares knowledge with colleagues worldwide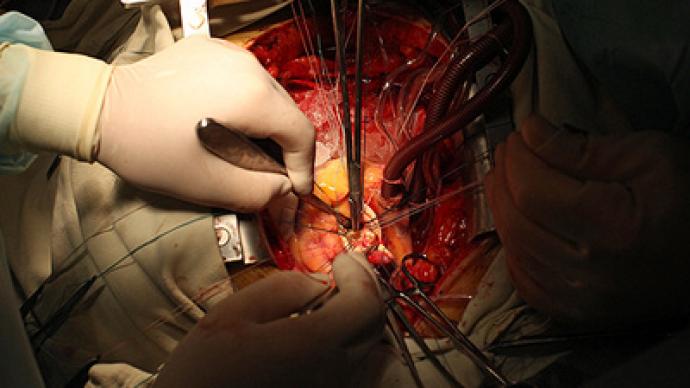 For the first time Russian surgical expertise comes under the international spotlight as renowned laparoscopic surgeon Konstantin Puchkov performs a live operation broadcast to hospitals around the world.
The laparoscopic removal of an oesophageal hernia from a woman's abdomen was performed by Dr Konstantin Puchkov, a leading specialist in his area in Russia. The surgery lasted 40 minutes as opposed to the traditional two and a half hours. It was transmitted to Rome where the 22nd Digestive Apparatus Surgery Conference is being held on May5-6.The 5,000 people who were present at the conference in Rome and around 15,000 other surgeons from around the world were able to watch the live broadcast of this particular procedure and 29 other surgical operations simultaneously performed in different countries of the world. Dr Puchkov is the leading surgeon in this area in Russia. He explained to RT what the main difference is between this particular way of removing a hernia and the traditional, more invasive, procedure: "This type of surgery is called key-hole, meaning not through a huge incision, but through several small incisions in the abdomen. The surgery is quick, safe and virtually bloodless. I've personally done 640 such operations. It's a rather large number. We've been getting here for quite some time, developing our technique and learning from European colleagues."RT's Irina Galushko has spoken to Larisa Daineko, a patient, who has just undergone a similar operation last night."I didn't have to prepare for this surgery, unlike before," she said. "I came in the morning, had the surgery last night, and I'm feeling fine. It's a lot less straining emotionally. I can even walk – I got up on my own this morning." Dr Puchkov has spent the last 10 years travelling all around the world and participating in various workshops and studying abroad. He has studied in France, US, Singapore and holds numerous certificates from all over the world. He believes the more you study, the more you pick up something new – especially in this field.  He also passes on this knowledge to other doctors all around the country. At this point there are several thousand surgeons in Russia who perform similar laparoscopic procedures. Unfortunately, not every patient can afford such a procedure, but Dr Puchkov says he is glad to be able to perform them for free for those who don't have insurance. "At this time this type of equipment is not available in all our hospitals. But the government is allocating a lot of money for such programs all across the country, and I think we'll get there soon." This particular method of surgery is spreading rapidly across the country and Dr Puchkov believes it's just a matter of time before this procedure l finally replaces the widely used invasive surgery.
You can share this story on social media: