Olympic flame lit for Vancouver Games
Published time: 22 Oct, 2009 15:07
Edited time: 22 Oct, 2009 19:12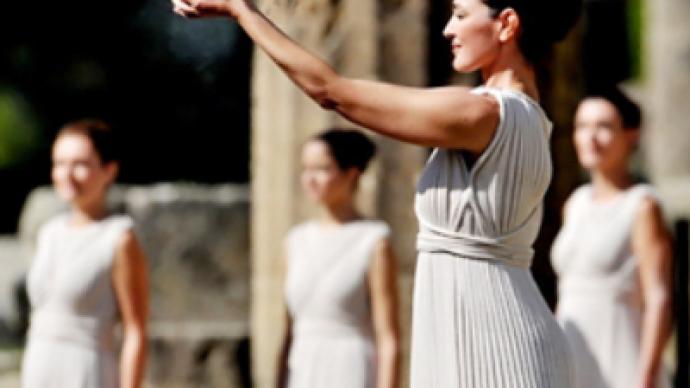 The Olympic flame for the 2010 Winter Games in Vancouver has been successfully lit in Greece.
Representatives from the International Olympic Committee, Greece and Canada gathered in ancient Olympia for the traditional ceremony.
The sun shone just enough over the fallen temples at the birthplace of the ancient Olympics on Thursday for a Greek actress playing a pagan priestess, dressed in white gown and sandals, to focus its rays on a silver torch using a concave mirror.
"It is a message of friendship and respect to millions of people of different nationalities, races and creeds. Above all it is a message of peace throughout the world and symbolized by the tradition of the Olympic Truce, or the 'ekecheiria', that was proclaimed and announced by the citizens of Elis, who traveled throughout Greece to pass on the message," Jacques Rogge, IOC President, said, AP news agency reports.
After an eight-day trip through Greece, the flame will be handed over to Canadian officials at the restored ancient Panathenaean Stadium in Athens.
It will be delivered to Canada on October 30 for a 45,000-kilometer journey, which will take 106 days.
The flame will burn at the Vancouver Games from February 12th to 28th.