Corrupted magic: Interior Ministry 'alchemist' caught with $1mln bribe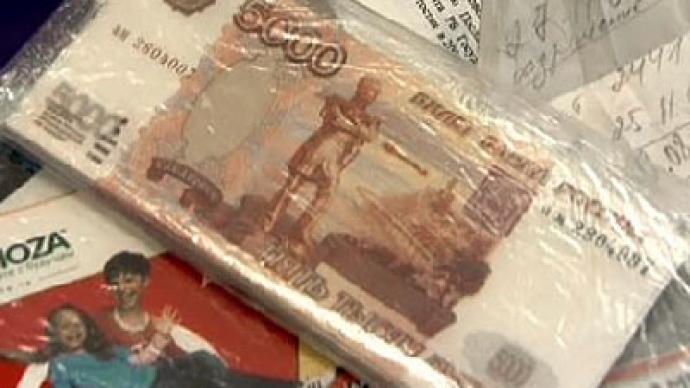 Corruption can do magic in Russia, proved an "alchemist" from the Interior Ministry, known for "transforming" diamonds into glass and heroin into detergent at the country's customs. But it all went wrong when he was caught with a $1 million bribe.
The shady money came from an aspiring foreign businessman who hoped the official would use his magic wand and give the entrepreneur a green light to open a company in Russia.  Curiously, the businessman did not pay for any actual help. In return for the money, the official promised not to aide but rather not to obstruct. Media speculated that the $900,000 found at the scene could be the first tranche of a $6 million bribe. The official – Eduard Sandrukyan – once made a breath-taking career in the transport police. Starting as a simple water and air transport police investigator, he soon jumped up the career ladder becoming the head of the transport investigative committee at the Interior Ministry. Sandrukyan was steps from taking a position in, ironically, Russia's Justice Ministry, when the unfortunate coincidence nearly landed him behind bars. He was charged with trafficking: he is alleged to have used inventive methods, for example "turning" diamonds into glass, platinum into lead, and heroin into laundry detergent – all so that the goods could pass through Russian customs without raising suspicions. It was for that reason that Sandrukyan was nicknamed the "Alchemist" and "Sunduk" ("Coffer"), the LifeNews tabloid reported. Now the investigation is to look into all Sandrukyan's shady dealings, including his purchase of a $1.5 million mansion in Moscow's most prestigious district; his alleged investigative and realty activities in the Northern Caucasus and during his position as the head of Sochi's international airport.Allegedly, the official was ratted out by the deputy head of his department, with whom Sandrukyan had worked hand in hand for many years. The man is now hiding from Sandrukyan's revenge – he is under special police protection.Russian officials are internationally notorious for their big appetite for state money.  The most recent check has revealed that, thanks to corrupt officials, last year saw more money go missing from the budget than in any previous audit – $22.7 billion.  A Russian MP recently discovered that state agencies spent $150 million on luxury cars in just three years. That's despite President Medvedev's wide anti-corruption campaign. The country's Accounts Chamber has even launched a competition to draw the best caricature of a crooked politician.
You can share this story on social media: