'It's illegal!' Brazilian multinational sues Florida over Cuba, Syria sanctions law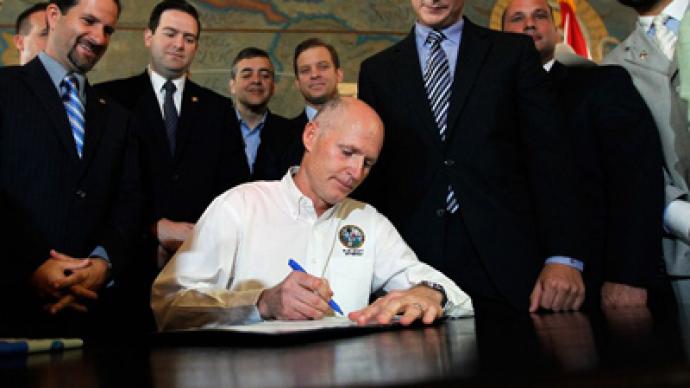 Global Brazilian conglomerate Odebrecht says a new law that makes it illegal for companies doing business in Cuba or Syria to also do business in Florida is unconstitutional. Odebrecht has filed a lawsuit against the state in Miami Federal Court.
­Signed by Florida governor Rick Scott, the law is set to go into effect on July 1st, and prohibits state and local governments from awarding contracts of $1 million or more to any company that conducts business in Cuba or Syria, according to a Reuters report. Odebrecht, which is heavily invested in Florida, Cuba and the Middle East, says the measure is illegal.

There has been backlash over both the new law and the suit by Odebrecht, which specializes in engineering, construction and chemicals.
Odebrecht is currently developing and renovating the port of Mariel in Cuba, viewed as an essential future shipping destination for the Cuban economy, should the US drop its trade embargo. Another investment involves reinvigorating Cuba's flagging sugar trade, once the nation's main export cash crop. The two Cuban projects could mean over $1 billion of investment for the country's tattered economy.

Odebrecht USA has invested $3.9 billion in Florida since 1990, including two terminals at Miami International Airport, the American Airlines Arena (home to the Miami Heat basketball team), and the Adrienne Arsht Center for the Performing Arts, one of the largest performing arts centers in the US. Odebrecht USA is currently bidding on a $700-million contract for a hotel and office complex associated with Miami airport.
Odebrecht USA calls the new law "unconstitutional and unenforceable" in its lawsuit, stating that federal regulations "provide the federal Executive Branch with significant flexibility regarding the implementation and application of sanctions directed at Cuba, but do not authorize states to enforce their own sanctions."
This is not the first time the state of Florida has tried to impact federal jurisdiction.
Tensions run high in Florida whenever Cuba is mentioned due to the large Cuban-American refugee population there. Governor Scott gained strong support for the bill in Florida's republican senate, especially among the Cuban-American politicians who stated that Florida tax dollars should not be used to support dictatorships. Syria and Cuba are both on the US state-sponsored terror list.

However, there has also been harsh criticism among Floridians over the law. Scott himself acknowledged the law would likely require federal approval, and the upcoming fight to defend it will come at the taxpayer's expense.
In 2000, a federal judge ruled against a requirement that companies wanting to do business with Miami-Dade County government submit sworn statements attesting they did not have contracts to work in Cuba. In 2009, another federal judge overturned a 2008 Florida law requiring travel agencies specializing in trips to Cuba to pay increased fees and bonds to the state, the Miami Herald reported.
Odebrecht claims in its lawsuit that its US subsidiary is "remote and distant from, and has no contact with, the corporate entity involved in the expansion of the Cuban Port of Mariel or any business operations in Cuba of any kind." And while Odebrecht may be blurring the lines, US federal and constitutional precedent is clear.
So why bother with a law that will only be overturned, leaving the public to foot the legal bill?
The Miami Herald wrote in its June 6th editorial that "The Coral Gables-based Odebrecht USA has done excellent work in Florida and locally, and there's a lot at stake as it looks to compete for contracts at Miami International Airport and at state and local agencies. That this state law came up now raises questions about some of the companies seeking to compete and their backdoor attempts to get ahead."
"The US Constitution does not give states the right to conduct their own foreign policy — indeed, imagine 50 states conducting their own foreign affairs; that would be disastrous."