Moscow sit-in: Real opposition or political circus? (VIDEO)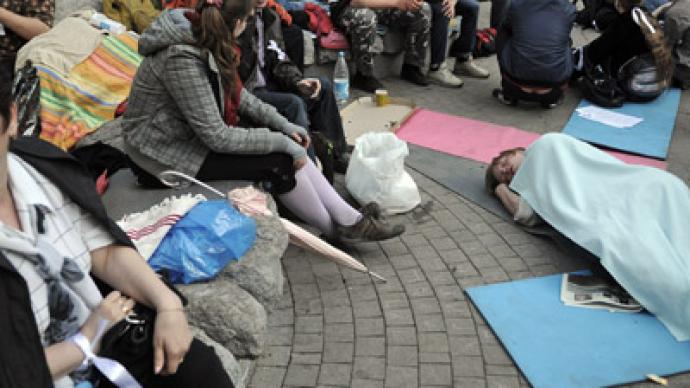 Moscow's "popular promenades" have entered their sixth day. They have now turned into a peaceful sit-in and lie-in demo, attended by hundreds of protesters, including unusual guests such as a cow, a clown and a rock band.
The protest is fully focused on the Chistye Prudy area, which is a boulevard close to a metro station that goes by the same name. The location is attended daily by several hundred protesters coordinating their rally via Twitter and other social networks.Apart from well-known leaders Aleksey Navalny and Sergey Udaltsov the protesters have been joined by other opposition activists such as socialite Ksenia Sobchak, as well as Duma deputies Dmitry Gudkov and Ilya Ponomarev.What started earlier this week as a promenade literally – though some ran from police, and some were arrested – turned into a sit-in rally. The camp was dubbed "Occupy Abai" after Kazakh poet and philosopher Abai Qunanbaiuli, whose monument is located at the scene. Six days on, for some the "promenade" became a place to make their demands heard and for others a symbol of opposition's political ambiguity.
'People are unable stop and think, why they are doing it'
Moscow resident and producer working in film industry Diana Petrenko told RT she doesn't understand the exact cause "promeneurs" are fighting for. "I don't hear any coherent demands or complaints to the government," she says. "From the first day, I keep on getting the feeling that this is all an orchestrated spectacle with media personalities. Where somebody's promoting their own names, while the "creative class" doesn't understand, why it is out on streets holding banners."However, Actor and Occupy Abai participant Famil Veliev knows exactly why he is attending the camp on daily basis. As he told RT protests were the only way for him to express his dissent with the current state of affairs in Russia. "I do not consider the results of these elections [presidential and parliamentary] to be valid, and the government must at least acknowledge it. It is important to return public trust to electoral procedures and the supremacy of law over personal preferences and benefits." he said."I am absolutely certain that each new day on Chistye Prudy – is a millimeter of movement forward, a millimeter of change in public opinion. We might not achieve what we want, but one thing I know for sure is that leaving would mean a total defeat."On the other hand, Petrenko believes that each new day at the camp is a day lost for fighting for something that really matters. "Nobody checks information anymore, when they cross-post or retweet something, but in reality they can't even name five members of political parties," she told RT. "People are unable stop and think, why they are doing it. They follow the herd mentality as they head over to the demonstration and onto barricades, although they could direct forces towards a much more productive cause."
The cow, the clown, eight piglets and politics
While police arrested some participants of the first rallies on May 8, they have taken a much more complacent approach to the "Occupy Abai" protesters. People are free to come and go, discuss political ideas, sing or just lie on the grass and enjoy a sunny day. For those who don't want to waste their time on leisurely activities lecture series have been organized right at the venue. Protesters can attend lectures on topics ranging from TV censorship to the history of civil disobedience. There's also room for improvement of the sit-in conditions. For instance on Saturday, an assembly discussed proposals to hold a No Smoking day, as well a No Meat and No Swearing day. Some can try their hand at politics: election of the "President of the Chistye Prudy Republic" has been proposed by some activists.Those who cannot leave their kids alone, are free to take them to Chistye Prudy. On Saturday, a clown dressed in a SpongeBob costume came by to entertain children, and a rock band called "Center" visited the location. A true star of the protest, however, was a cow, brought in by a man in a muscle shirt. He said his bovine pet came "to protest against Russia's accession to the WTO." Authorities stated that they would not take any action against him, as the cow was on a leash, and was therefore considered his pet.
Throughout the days, police did arrest several "provocateurs." On Thursday, eight young girls dressed as piglets were taken into custody. Upon Sobchak's request police also arrested a man who held a poster with "For Israel" emblazoned on it. The rallies started on Tuesday night after Vladimir Putin's inauguration as President. The protests were initiated by opposition activists Sergey Udaltsov and Aleksey Navalny, who urged supporters to come to the Kitai-Gorod area of central Moscow. He called this gathering a"popular promenade" – a peaceful walk without the use of political slogans. Rallies continued throughout Moscow the next day with people moving from one boulevard to another to avoid being arrested by police. Udaltsov and Navalny have been detained on several occasions, along with other protesters. After police released them, they've joined the rally again. Navaly and Udaltsov were eventually placed under arrest for 15 days for failing to comply with authorities, with Udaltsov announcing that he was going on a dry hunger strike.
Anton Vinogradov, Elena Ostroumova, RT
You can share this story on social media: