Occupy London: Hundreds march for global change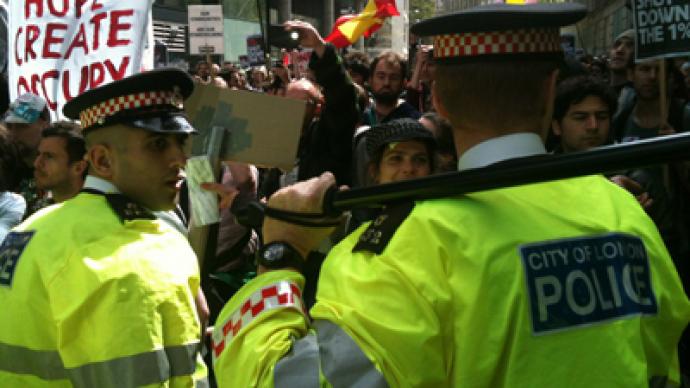 Hundreds of Occupy London activists have gathered outside St. Paul's Cathedral to march across the city in a new protest. Similar actions are taking place in cities all over the world. Meanwhile, London protesters report multiple arrests.
Protesters were marching through the British capital "visiting the 1% at the offices of some of the largest firms." The first stop on their way was Goldman Sachs headquarters – one of the world's largest investment banks.The Goldman Sachs building was surrounded by police, called out to prevent any illegal activity.On its Twitter account, Occupy London reported that officers had raised their batons to provoke demonstrators. The second stop was Deloitte, the second-largest professional services firm in the world, which like other major accounting firms "helps corporations and wealthy individuals avoid tax and indulge in creative accounting," the Occupy London Twitter says.After Deloitte, activists marched to the Bank of England, where they set up tents on the square.A witness to the protests told Reuters that scuffles had broken out between police and demonstrators, resulting in at least 12 arrests.The protest comes as part of a global day of action with thousands of people rallying in some 400 cities worldwide including Moscow, New York, Athens and Madrid.In February, London police dispersed the Occupy London camp outside St. Paul's Cathedral. It had been there for four and a half months, after protesters were prevented from occupying a square in the heart of the City of London.The Occupy London movement is part of the global Occupy movement that started in New York last year. Occupy activists protest against economic and social inequality, urging greater accountability by financial institutions and other financial reforms.
You can share this story on social media: