Silence of the tweets: Occupy Boston in cop court case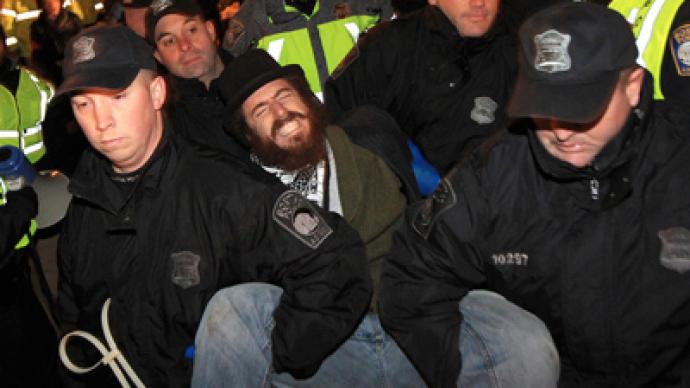 The first amendment is on the ropes as a secretive court ruling will force Twitter to hand user account information over to the Boston Police Department. The case highlights fears that political speech is increasingly being criminalized in America.
Twitter had originally refused to comply with the information request concerning a user known as "@p0isAn0N," aka Guido Fawkes, who was named in a subpoena issued by the Suffolk County district attorney.The subpoena in question requested "all available" subscriber information – including IP address logs – connected with the accounts GuidoFawkes," "@p0isAn0N," "@OccupyBoston," "#BostonPD," and "#d0xcak3", as a part of an ongoing criminal investigation which is apparently linked to the Occupy Boston movement.Information was also requested for users who had used the hashtag-keywords #BostonPD or #d0xcak3 from 8-13 December.The tweet that sparked the latest court battle is said to have provided personal information concerning Boston police officers, which was allegedly hacked from a members-only union website.However, "GuidoFawkes" later said on Twitter the controversial information he originally tweeted concerning the Boston police had been pulled from "public domains."The hacker group Anonymous is said to have broken into the servers used by the Boston Police Patrolmen's Association in October and copied the information, which was later linked through Twitter as payback for "unprovoked mass arrests" of 141 occupy Boston protesters on October 11.Meanwhile, Peter Krupp, the American Civil Liberties Union (ACLU) lawyer who had attempted to quash the subpoena on free speech grounds, objected to the case being held in secret and was troubled by the free speech implications the judge's ruling represented."When an administrative subpoena is used to get information that's protected by the First Amendment, that raises particularly troubling issues," the Boston Globe cites Krupp as saying.A court official said the judge's ruling would be stayed for 10 days so that the attorneys would have the opportunity to appeal.The case originally made headlines around the world after Twitter notified GuidoFawkes and other users that the company had been served with the subpoena, despite specifically being told not to by the Suffolk district attorney.Guido Fawkes, who was provided a copy of the request by Twitter, went on to post the content of the subpoena online. Matt Graves, a spokesman for Twitter, said it was company policy to alert users about subpoenas related to their Twitter accounts.According to Twitter's official policy, the only situations for which the company refrains from notifying a user about a request for information about their account is when they are "prohibited from doing so by statute or court order."Although disappointed by Thursday's ruling, Krupp went on to praise Twitter, saying that most other social networking services had "no interest" in standing up for their users rights, as they were granted immunity if they complied with law enforcement requests.