Russia's sideways sailing 'oblique icebreaker' has final trials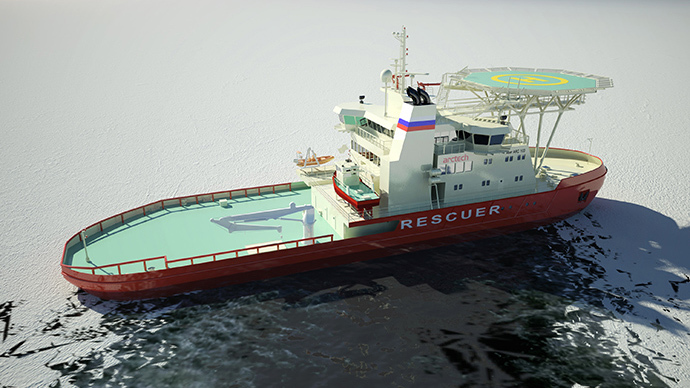 An innovative, asymmetrical icebreaker is undergoing final tests in the Baltic Sea. The first of its kind, the 'oblique icebreaker' Baltika can crash through ice while moving forward sideways to make a wider ice clearing for larger vessels.
The icebreaker, only 20 meters wide, can make a 50-meter wide passage in the ice, enough for a big tanker, thanks to its capacity of operating with up to a 30° sideway angle.
The vessel has three propulsion thrusters that can rotate 360 degrees, giving the icebreaker superior maneuverability.
Baltika icebreaker general characteristics:


Length: 76.4 m
Beam: 20.5 m
Draught: 6.3 m
Power generation: three diesel generators (3 × 3,000 kW)
Propulsion: three azimuth diesel-electric thrusters (3 × 2.5 MW)
Speed: 14 knots (26 km/h) in open water
3 knots (5.6 km/h) in 1 m ice
Range: 4,500 nautical miles (8,300 km), 20 days endurance
Crew: 24 (accommodation for 36)
Aviation facilities: Helideck
Ice class: RMRS Icebreaker6
No matter how the vessel attacks an ice field, head on or sideways, it can break ice up to 1 meter thick, enough for operations on the water routes of the Baltic Sea where ice in wintertime is practically never thicker than one meter.
Baltika does not actually break the ice with its hull, but rather rolls on the ice boundary to crush it with the ship's weight.
To stabilize the vessel in broadside ice-breaking operation mode and to prevent ship from rolling over, Baltika possesses a sophisticated system of ballast tanks and can change its gravity center at the captain's will by pumping water between the tanks. The same applies to a system of fuel storage tanks.
Baltika has a large helipad for rescue and ice reconnaissance operations. The ship can also deal with oil spills, as the vessel's hull has a hatch to collect the oil slick from the water surface and is equipped with a skimmer to separate water from oil products.
The first Baltika icebreaker is expected to be handed over to its buyer this spring. The vessel is the first in a series of four similar ships.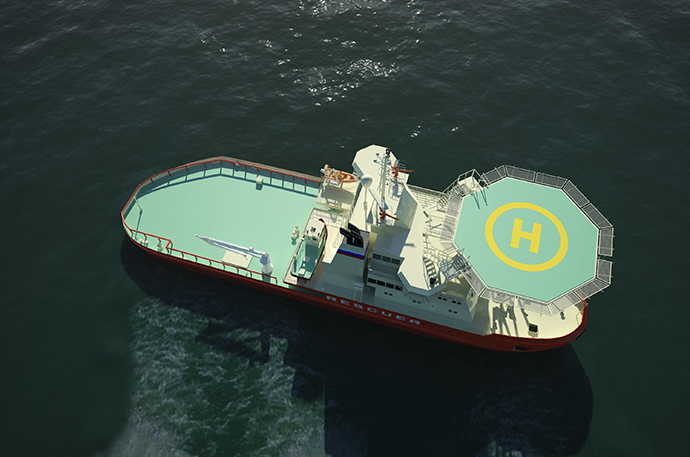 The patent holder of the vessel is Finnish Aker Arctic Technology, an engineering company that deals with anything that sails or operates in extreme Arctic conditions. The company's ARC 100 project, which was ordered by the Russian Transportation Ministry in December 2011, has now produced the Baltika, a diesel-electric ice-breaking multipurpose emergency and rescue vessel.
The Baltika began its life in Russia's Kaliningrad, at the Yantar shipyard, where sections of the ship were welded and sent to Finland. From there they were assembled and fitted up at Arctech Helsinki Shipyard, a 50/50 joint venture of the Finnish STX Finland Cruise Oy and the Russian state-owned United Shipbuilding Corporation.
Baltika floated off on December 12, 2013, but remained in dock for outfitting work for about five weeks more. On January 18, the ship headed out of the dock for sea-testing.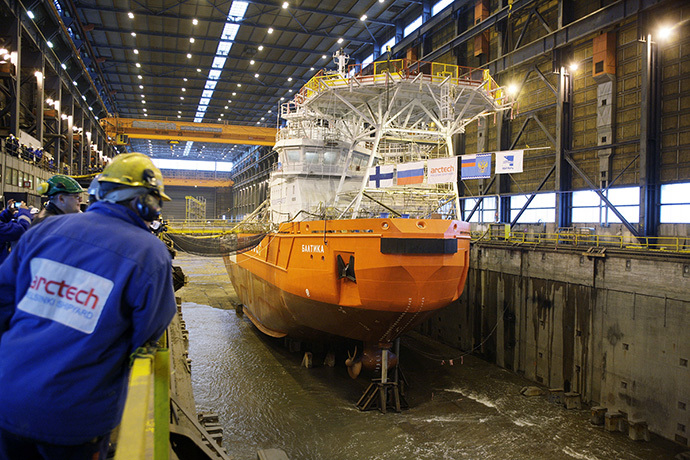 The Aker Arctic engineer company is now busy creating an ARC 100 HD icebreaker, a larger step-up version of ARC 100, that will have 2.5 times the bollard pull of its predecessor and will be able to operate in harsher conditions and cut trade routes through much heavier Arctic ice.
This project is carried out within the plan to facilitate navigation on the alternative sea lane from Asia to Europe, the Russian-operated Northern Route that passes through frozen waters of Arctic Ocean.
The Northern Route is considerably shorter than the conventional one that goes through the Suez Canal. For example, from Russia's Murmansk to Japan's Yokohama the route through the Suez is 12,840 nautical miles (23,780km) whereas the Arctic route takes only 5,770 nautical miles (10,686km).
The Russian government is heavily investing into infrastructure of the Russian Arctic, presenting the Northern Route internationally as a profitable alternative to traditional transit through the Suez Canal in matters of time and fuel effectiveness, no restrictions on vessel sizes and the absence of pirates.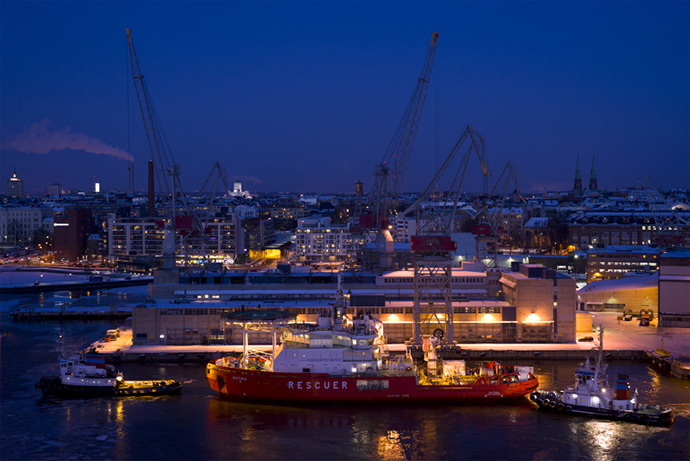 You can share this story on social media: