Obama falling from grace, global survey reveals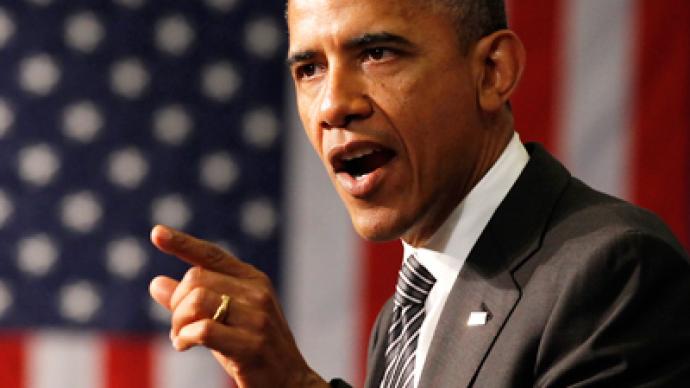 US President Barack Obama's popularity has declined significantly on the international stage since 2009, says a new survey. Disillusionment at a unilateral foreign policy and controversial drone strikes are major factors in his decline in approval.
The Pew Research Center carried out an opinion poll about the US president and his policies in 21 countries, documenting a clear decline in his popularity worldwide. As a result, global perception on the US as a whole has also taken a tumble.
While public opinion of Obama still remains largely positive in the EU since 2009 confidence in the US head of state has slipped by 6 per cent from 86 to 80.
Muslim countries surveyed reported the lowest approval ratings of 24 per cent, dropping by 9 per cent since Obama's election. By far the most drastic change in public opinion of the US leader came from China, where his popularity has plummeted by 24 per cent over the last three years.
The investigation identified the predominant reason for the decline in global opinion as US anti-terrorist measures. All of the countries surveyed reported dramatic decline in public approval of US foreign policy.
"There remains a widespread perception that the US acts unilaterally and does not consider the interests of other countries," said the Pew Research Center.
US citizens do not share this opinion, roughly three in four Americans believing that the interests of other countries play a major role in shaping US foreign policy.
The majority of the countries expressed considerable opposition to the US use of drone attacks to target extremist Muslim leaders in nations such as Pakistan, Yemen and Somalia.
Washington maintains the attacks are highly effective at targeting militant insurgency, but has received widespread criticism for the civilian casualties caught in the crossfire.
The rise of China
The survey also displays a significant decline in confidence for the US economy, with the majority of nations perceiving China as the world's new financial superpower.
The economic balance of power has shifted dramatically since Obama took office in 2009. At that time an average of 42 per cent named the US as the world's dominant economic power, with China garnering a modest 22 per cent.
However, three years later the tables have turned, with China occupying the top spot at 43 per cent and the US trailing at 36 per cent.
Obama still election favorite
Despite global disillusionment at Obama's policies, most countries still support his reelection bid, with the majority of EU citizens backing him in this year's elections.
However, the new statistics show that global interest in the American presidential hopefuls has diminished since 2009 with a large number of respondents indifferent as to whether Obama should take up office again.
The new figures show that after the initial booming support for the Nobel Peace Prize-winning president the world is falling out of love with the Obama administration.
You can share this story on social media: