Obama: 'I believe Sochi Olympics are safe'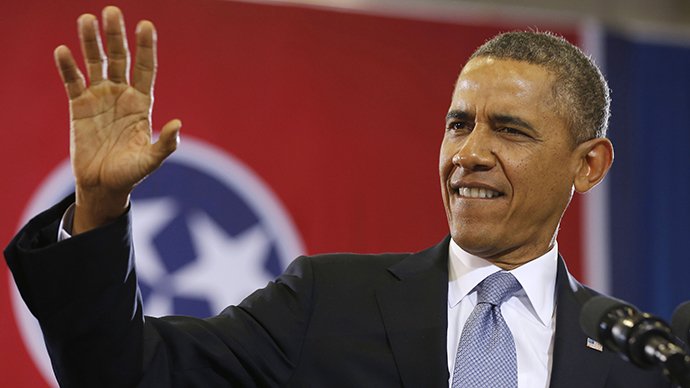 US President Obama has encouraged Americans to travel to the Olympics in Russia, saying he believes "Sochi is safe." But citing the Boston Marathon bombing as an example, he said there was always a security risk.
"The Russian authorities understand the stakes here," Obama said in an interview with CNN. "They understand that there are potential threats that are out there, and we are coordinating with them. We've looked at their plans."
Obama said the US has "a good sense of the security" that Russia is "putting in place to protect not only the athletes themselves, but also visitors there."
Still, Obama says there are "always some risks" involved with "these large international gatherings" like the Olympics, where 88 countries will be competing.
"I don't want to completely discount those. But as we've seen here in the United States, at the Boston Marathon, there were some risks if you have lone wolves or small cells of folks who are trying to do some damage," he said.
Multiple Olympic medalist Caitlin Cahow, a member of the US delegation to the Sochi Games and a representative of the LGBT community, is also certain that security at the Olympics would be top notch.
"There is every indication that the Sochi Olympic games would be very safe, very secure. I know that Russia has dedicated very significant resources to making sure that safety exists both in the games and outside of them," Cahow told RT. "I know that the IOC has been working in consort with Russian officials and the US has offered any assistance necessary to ensure that the games are safe."
The safety of upcoming Olympics in Russia's resort city of Sochi remains one of the major concerns with the Games kicking off next Friday, Feb. 7.
Questions about the security of the city and its surroundings, due to the proximity of the Caucasus region, infamous for frequent tensions, have been raised since 2007, when Sochi was chosen as the host city of the 2014 Olympics.
Uncertainties spiked following terror attacks in the southern city of Volgograd which took over 30 lives in December. On Thursday, the Russian National Anti-Terrorism Committee identified the two suicide bombers it believed detonated the blasts at the railway station and in a city bus.
But despite the widespread media scaremongering about the potential terror threat during the Games, International Olympic Committee official (IOC) Gian-Franco Kasper said earlier this month that he is "convinced Sochi will be the safest place in the world during the Olympics."
Russia will be providing some of the most extensive security in history in Sochi with more than 30,000 law enforcement officers ensuring the security of the Games. According to speculations in Russian media, the country spends around $2 billion on security.
You can share this story on social media: