Obama and Merkel talk policy and war in Washington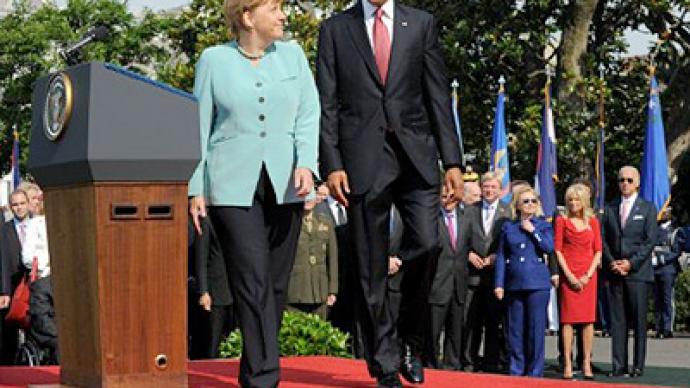 German chancellor Angela Merkel and US President Barack Obama held talks in the White House, touching upon a whole range of issues. Merkel's visit is aimed at improving US-German relations, which have been far from perfect for quite some time.
Speaking at a press conference after their talk, Obama stated that the US expects Germany to get behind a plan for a third bailout of debt-laden Greece in order to stabilize the euro, adding the American economy depends on a resolution to Greece's problems. "We think it would be disastrous for us to see an uncontrolled spiral and default in Europe because that could trigger a whole range of other events," said Obama.Merkel noted that Germany understands its responsibilities and added in a very diplomatic manner that everyone should mind their own business."Concerning the situation in the US, I think each and every one has to deal with his or her own problems," said Merkel. "We in Europe have our hands full already with what we need to do, and I'm absolutely convinced that as we showed our responsibility, so will the United States of America." Merkel has long been resisting Obama's calls for cash assistance to help the poorer members of the EU cover their losses from unsustainable social welfare programs. Merkel is calling for more international participation in dealing with the European debt crisis, which threatens to add tremendous uncertainty to the world economy. The two leaders were also expected to discuss NATO operations in Afghanistan and Libya and the democratic revolutions in Tunisia and Egypt.On the economic agenda, Merkel and Obama discussed US-German trade and the possible future head of the International Monetary Fund. The pomp-filled reception at the White House began with a salute for Merkel.Later during the visit, Obama plans to award Merkel the Presidential Medal of Freedom. Merkel arrived in Washington on Monday for a visit aimed at improving and developing relations between the US and Germany. Obama welcomed the German leader with a dinner at a fancy restaurant in Washington's historic Georgetown neighborhood.
Rift between US and Germany getting deeper
At the press conference, both leaders were rather evasive when addressing some tricky issues, and tried to concentrate on coordinating efforts and other positive rhetoric. However, some doubt that it may lead to a significant improvement in bilateral relations, as the two countries stand more divided than ever on the most important issues.Regarding NATO involvement in Libya, Germany chose to abstain from the vote at the UN Security Council on the no-fly zone over Libya. Germany also plans to abolish nuclear energy, as opposed to the US which is expanding its nuclear power plants. When Angela Merkel became chancellor in 2005, she was expected to be quite a pro-American leader. However, with the wars in Afghanistan and Iraq, her support for the United States faded. Although on the surface the relations between the US and Germany remain friendly, some analysts say that with the new developments in the world – all the new revolutions and wars – the rift between Washington and Berlin is getting deeper.
Mark Weisbrot from the Center for Economic and Policy Research believes it is understandable why many people in Germany, along with Merkel, do not want to constantly support Europe's struggling economies the way the US wants them to. "In fact, if you look at it more closely, it's the big banks that are really being bailed out, so a lot of this resentment is not right wing, it's very understandable," he said. "You can see Obama's pressing for this, because he just wants the problem to be papered over and kicked down the road, but it's not as easy for the German government to go along with that," added Weisbrot.
You can share this story on social media: