Missing Syrian nuns appear in video, say 'release imminent'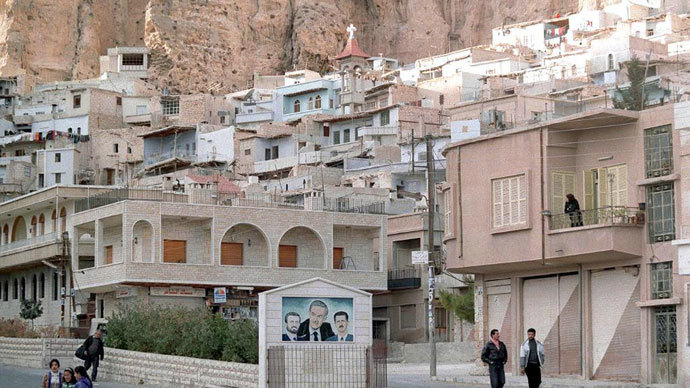 A group of nuns who went missing in Syria after opposition forces took control of a Christian town this week say in a video that their evacuation was a rescue operation, not a kidnapping. However, the authenticity of the footage has been questioned.
Vatican Ambassador to Syria Mario Zenari said Tuesday that 12 nuns, including the convent's Mother Superior, had been removed from Maaloula to a militant-held town some 20 kilometers away, following heavy clashes with government forces Monday.
Rebels "forced the sisters to evacuate and to follow them toward Yabroud," Zenari told Reuters from Damascus via telephone, adding that he did not know the reasons for the nuns being forced to leave.
The rebels then relocated the nuns from the Greek Orthodox monastery of Mar Thecla to the nearby town of Yabrud, the Vatican envoy to Syria added.
In the video, broadcast by Al Jazeera, more than a dozen nuns were filmed in their traditional black garments sitting on couches around a room.
Asked by a man not seen in the footage if they had been taken against their will, one of the nuns denied it, saying they had left the monastery to escape the shelling, and that they would be released after two days.
"We are being treated well. They brought us from the convent, out from under the shelling ... they rescued us, and we're very happy with them," another nun said.
No mention was made about when or where the video was filmed.
RT Arabic talked to Mahmoud Diab, the Sunni imam of the town, who doubted the footage was taken with the nuns' voluntary agreement.
"We know they cannot exercise free will and [have to] say what the armed kidnappers order them to. This is not the first statement of this kind; a similar one appeared when militants assaulted Maaloula for the first time."
The pan-Arab Asharq al-Awsat newspaper on Friday reported that a militant group, "Free Qalamoun," had claimed responsibility for the kidnapping of the sisters and wanted to exchange them for a thousand female prisoners said to be held by the government.
Diab doubted such demands could be met.
"We are working hard to release the women without preconditions," he told RT Arabic. "Actually, there are no so many women in Syrian prisons."
Diab slammed the kidnappers for using the nuns to manipulate world media and promote own goals.
"We object to using the nuns as a [commodity]. Before Maaloula came under fresh attack, we were just one step away from reaching an agreement to release other Christian brothers and sisters from the town. The nuns are not their only hostages," he said.
Syria's Christian minority has sometimes found itself caught in the middle of the fighting in the civil war, which, having started in March of 2011, is quickly approaching its third year.
You can share this story on social media: