Nuclear Iran vs Terrorist USA?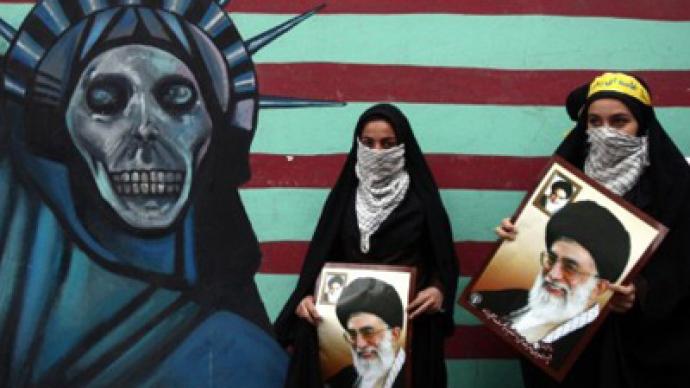 Iran has made computer models of a nuclear warhead, says IAEA report on Tehran's suspected nuclear activities, due to be published next week. Meanwhile, Iran is set to unveil documents accusing the US of links with terror groups.
The UN nuclear agency is planning to reveal previously undisclosed intelligence on Iran's suspected nuclear arms program next week. The report may reveal the International Atomic Energy Agency possesses intelligence information alleging Tehran of making computer models of nuclear warheads, diplomats have told the Associated Press on condition of anonymity. The agency also plans to show satellite imagery of what it believes is a large steel container used for nuclear-arms related high explosives tests.In the wake of rising tensions between the US and Iran, Tehran in its turn said it will release documents accusing Washington of involvement in acts of terror against Iran and other countries.A senior Iranian lawmaker Alaeddin Boroujerdi said Friday the documents will discredit the US administration and will prove the United States and Israel are the chief sponsors of state terrorism.Earlier on Wednesday, the country's Supreme Leader Ayatollah Ali Khamenei said: "We possess 100 pieces of irrefutable evidence that reveal the US role in directing terrorists for conducting acts of terror in Iran and the region.""Assassination of Iran's nuclear scientists and massacre of the Iraqi and Afghan people are just a part of the US crimes which are not hidden to anyone," a senior member of Iranian parliament, Esmayeel Kosari, claimed as quoted by FARS news agency.Earlier there were some reports that the US was involved in extrajudicial activities in the region."I'm almost definitely sure the United States is at war with Iran through proxies," Robert Baer, author and former CIA case officer said in Current TV's 2009 documentary Vanguard: America's Secret War With Iran. According to Baer, US intelligence is in touch with PJAK, Iraq-based Kurdish militant nationalist group which frequently carries out attacks against Iran.In the latest diplomatic maneuver, Iran has sent an official letter to UN chief Ban Ki-moon, ruling out accusation of plotted assassination of Saudi envoy as "baseless" and accusing the US of conspiracy against Iran, according to IRNA news agency.Patrick Henningsen, editor of the Infowars.com website, told RT a report is due to be released on Monday that has detailed documentary evidence of US involvement in the funding and arming of terrorist groups that organize terrorist attacks in Iran. "What we are seeing here is war propaganda. One side is from the US and the other side is Iran's counter-propaganda to show that the US is actively involved in operating terrorist groups in the region. The timing of the situation is incredible. Let's look at the US policy on nuclear right now – Obama approved a $200 billion bill to upgrade the US nuclear arsenal! There is a bit of a double standard going on there," he stated.
War on the doorstep?
Meanwhile, in Israel, President Shimon Peres said that he believed that Israel and the world may soon take military action against Iran."Intelligence services of all countries understand that time is running out and they are warning their leaders," Peres told Israeli Channel 2 on Friday."It would seem that Iran is getting closer to having nuclear weapons," he claimed.Following that, a senior US military official said he was unsure Israel would inform Washington of plans to strike Iran, adding that the US military is "increasingly vigilant" of activities in both Iran and Israel.On Friday a senior US military official told Reuters that Iran remains "biggest threat to the United States and to our interests and to our friends" in the Middle East. Still, the anonymous official added he did not believe that Iran wanted to provoke a conflict.The latest reports only add more fuel to the ongoing media speculation as to whether or not Israel and the US would launch an assault on Iran's uranium-enrichment facilities.
You can share this story on social media: