'Great American ear' accused of listening in on secretive Vatican in run up to Conclave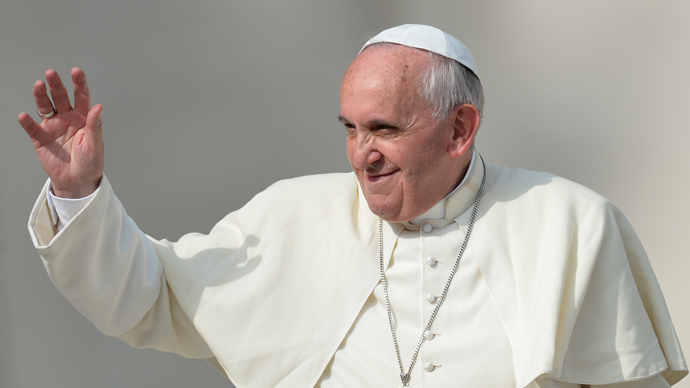 The US intelligence services allegedly eavesdropped on cardinals before they elected the new pope at last March's conclave, the Italian weekly magazine Panorama claims. The Holy See says they are not aware of such activities.
In an exclusive report on Wednesday, the magazine published allegations that the US listened to phone calls to and from the Vatican and wiretapped the accommodation where Cardinal Jorge Mario Bergoglio, future Pope Francis, was staying at the time.
"The National Security Agency wiretapped the pope. There are apparently also calls from and to the Vatican. It is feared the great American ear continued to tap prelates' conversations on the eve of the conclave," the magazine, which is owned by former Italian Prime Minister, Silvio Berlusconi, said.
It added that the pope has been of interest to the US secret services since 2005 and that the calls from the Italian bishops and cardinals were divided into four areas of interest: Leadership intentions, threats to financial systems, foreign policy objectives and human rights.
Other major leaders inside the Vatican that may have been the victim of US spying include acting Director General Ernst von Freyberg.
But the Vatican denied any knowledge of the spying.
"We have heard nothing of this and we are not worried about it," Federico Lombardi, a Vatican spokesman told Naharnet, an online news site based in Lebanon.
Likewise, the intelligence agency has denied the allegations.
"The National Security Agency does not target the Vatican. Assertions that NSA has targeted the Vatican, published in Italy's Panorama magazine, are not true," agency spokesperson Vanee Vines said in a statement.

The report that the NSA has targeted the Vatican may seem ironic considering how secretive the Vatican is itself. It has a system installed in the Sistine Chapel which can scramble any mobile phone calls, and if any one tells the media or anyone else important Vatican secrets they are then excommunicated.
The allegations follow a report on Cryptome, an anti-surveillance website, which reported that the US intercepted 46 million telephone calls in Italy between December 2012 and January 2013.
Italian prime minster, Enrico Letta, said that US secretary of State, John Kerry, has assured him that the US administration had "put the issue under review".  Letta has also convened a meeting of the Intergovernmental Committee on Security on October 31 in order to discuss the situation.
You can share this story on social media: