N. Korea threatens military action against 'southern puppets'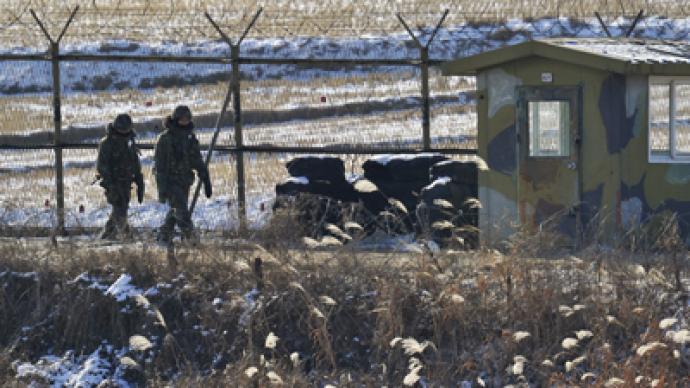 Pyongyang has warned of 'physical countermeasures' against South Korea if they participate in the UN sanctions against the North. Tensions are simmering on the peninsula after North Korea announced a third military test 'targeting' the US.
"If the South Korean puppet regime of traitors directly participates in the so-called UN sanctions, strong physical countermeasures will be taken," the North's Committee for Peaceful Reunification of the Fatherland said.North Korea's top military organization said that the tightening of sanctions was tantamount to a "declaration of war.""As long as the South Korean puppet traitors' regime continues with its anti-DPRK [North Korea] hostile policy, we will never sit down with them," it said.The threat follows North Korea's announcement that it will conduct a third nuclear test with a view to targeting to the US. Pyongyang defiantly stated that it was prepared to embark on a "fully-fledged confrontation'' against its "arch enemy" America on Thursday.China and the US wasted no time in reacting to North Korea's warmongering rhetoric, condemning the threats as "needlessly provocative."Washington resolved to take "additional steps" against Pyongyang, implying a potential widening of the UN sanctions currently in place against North Korea. Secretary of Defense Leon Panetta informed that the US was "fully prepared… to deal with any kind of provocation."In the current war of words with North Korea, it is significant that China is with the UN in its unanimous condemnation of Pyongyang, James Corbett, editor of the Corbett Report news website, told RT. "In this case we have China actually voting with the UN Security Council Resolution 2087 that is imposing some more sanctions on North Korea and condemning their satellite launch last month and this potentially means that China might be coming around a little bit and might be more amenable to some sort of action on North Korea," he said. North Korea's rhetoric and plans for new nuclear test are "deeply troubling and counterproductive," US special representative for North Korea policy Glyn Davies was quoted as saying by Reuters.The international community voted on a UN Security Council resolution that would effectively ban the travel of Pyongyang's officials and freeze the country's assets, sending a "strong message" to the defiant state.North Korea previously fell foul of the international community in December of last year when Pyongyang launched a satellite into orbit. The mission was widely perceived as a thinly-veiled test of missile technology, while Pyongyang maintains it was a civilian operation.  The UN banned North Korea from developing missiles and atomic weapons following nuclear tests in 2006 and 2009.Japanese investigators say that North Korea does not yet possess the technology to compact nuclear warheads, but it is capable of building missiles able to reach the US West coast. In the latest report published by Japanese observers, investigators describe the North Korean missile program as a "grave threat."North Korea has enough weapons-grade plutonium for about four to eight bombs, according to nuclear scientist Siegfried Hecker, who visited North Korea's nuclear complex in 2010.
You can share this story on social media: