'Firestorms' over Washington DC: N. Korean propaganda video threatens US attack
North Korea has produced a new propaganda video portraying a simulated attack on the White House and the US Capitol Building in Washington DC.
The four-minute video, entitled "Firestorms will rain on the Headquarters of War", was posted Monday on the YouTube channel of the North Korea's semi-official central news agency Uriminzokkiri.
A series of shots depicting North Korean soldiers, artillery fire, and military hardware culminate in an image of crosshairs zooming in on the White House. The scene quickly cuts over to images of computer rendered explosions bursting around the dome of the US Capitol building.

"There is no limit to the range of our strategic rockets," the narrator warns.

The video's release comes amidst rising tensions between Pyongyang and Washington after the UN Security Council voted to impose harsher restrictions following the North's third underground nuclear test in February.

On Monday, the US said that every military resource at its disposal, including its nuclear arsenal, would be available to South Korea in the event of a confrontation with the North.

"We remain steadfast to our commitment to extended deterrence offered by the US nuclear umbrella," US Deputy Defense Secretary Ashton Carter pledged after talks with South Korean Defense Minister Kim Kwan-Jin in Seoul.

"We'll ensure all of our resources will be available to our alliance."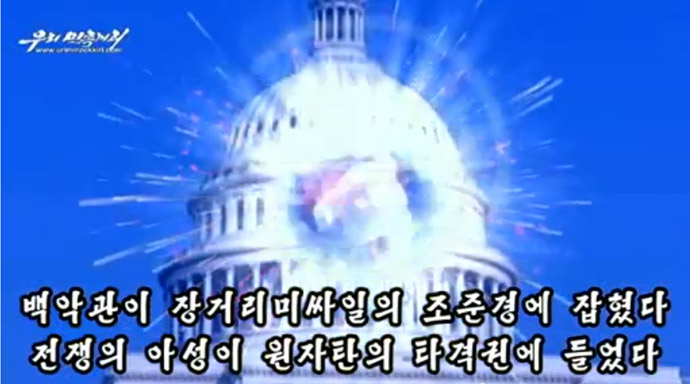 Earlier this month, Pyongyang threatened all-out nuclear war with the US and South Korea after the two countries began joint military drills on the Korean Peninsula. The North also nullified the 1953 armistice that ended the Korean War, claiming the drills were preparations for an invasion.

On Saturday, US Defense Secretary Chuck Hagel said the United States plans to deploy 14 additional interceptors along its West Coast in response to what he had previously characterized as North Korea's "irresponsible and reckless provocations."

This is not the first time a North Korean Propaganda video has depicted a military strike on the United States.

In February, Uriminzokkiri circulated an internet video showing a skyline resembling New York, up in flames.

"The North's high-level nuclear test aimed at US invaders is a nuclear deterrent to safeguard our sovereignty," one caption in the video read.

While an editorial published on the Uriminzokkiri website in February claimed North Korea was in possession of nuclear-equipped long-range missiles capable of hitting the US mainland, nuclear specialists say there is no evidence Pyongyang can construct a warhead small enough to mount on a missile.
You can share this story on social media: