Nord Stream to save Europe from energy shortage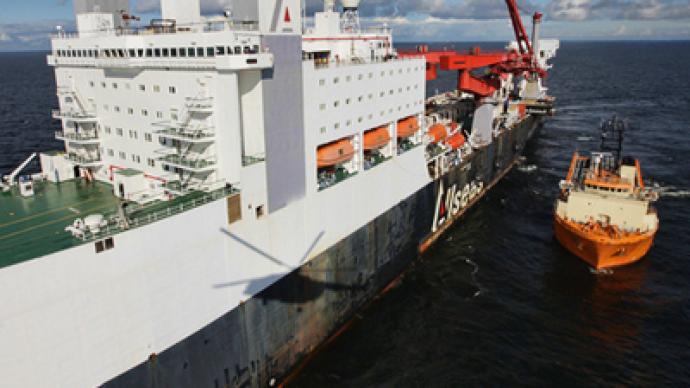 The construction of the first segment of the longest and most ambitious undersea pipeline in the world, "Nord Stream", which will deliver gas from Russia to countries across Europe, is nearing completion.
­The Nord Stream pipeline is going to be extraordinary in many ways: it will be the world's longest underwater gas pipe, the world's thickest pipe, and also operate under the most pressure.The flagship project of Russia stagnated for over ten years before construction that cost at least 7 billion euros could actually begin."Russia is now proving that it is capable of initializing and carrying out such large scale projects. Taking part in all of the phases, starting from modeling to construction and operation," engineer Artyom Kashirov told RT. The pipes for Nord Stream are custom made to withstand extreme conditions. The thickness of the pipe wall is four centimeters and it will not crack even when the temperature is minus 50 Celsius.The assembled pipeline looks solid, but in fact it is extremely flexible, being able to swing in a range of more than 1,000 meters. The ship that will lay the pipeline is already near the coast of Germany.The gas will be pumped by the world's most powerful compressor station, so there will be no need for additional stations along the route under the Baltic Sea, because the pressure will be already huge at the entrance to the undersea section. On its way to realization, the Nord Stream project faced a lot of objections. The first was from environmentalists from Finland and Sweden, the territorial waters of which the project goes through. They were worried about the impact on the seabed and what might happen in case of seismic emergencies.Gazprom and its partners in Europe have not only done everything to make sure there are no emergencies and nothing happens to the pipe – they went much further. They said that the Baltic Sea seabed has been damaged already by previous wars and industrial pollution – and financed a special expedition that cleared the seabed of waste, bombs and shells left from the last two world wars along the route of the pipeline.The other objection was political. Russia already supplies a third of Europe's gas and there were concerns that once put into operation, the Nord Stream will only deepen Europe's dependence on Russia's hydrocarbons.But Russia replied that this new pipeline will bring a new level of security by avoiding conflicts with transition countries, which basically held Europe hostage to the demands of Ukraine and Belarus.The recent events in the Arab world played into the hands of those behind the Nord Stream project. The instability in the Middle East and North Africa made it obvious that Europe needs Russian gas more than ever.
You can share this story on social media: