US maintaining Pacific fleet to 'deter North Korean provocations' – report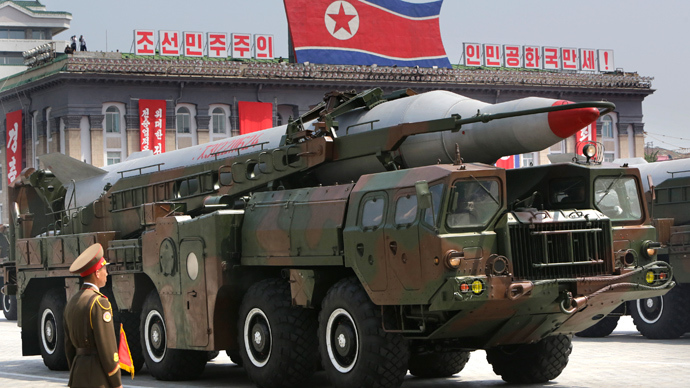 North Korea's determination to acquire long-range missiles and nuclear weapons has rendered the Pacific country an increasing threat to the United States, according to a Pentagon report that describes the small nation as "closed and authoritarian."
The Pentagon released its Quadrennial Defense Review this week, an update to the Defense Department's international outlook in which it warned that North Korea constitutes "a significant threat to peace and stability on the Korean Peninsula and in Northeast Asia and is a growing, direct threat to the United States."
The report came mere days after South Korean officials said the North fired short-range missiles into the sea on at least two occasions in what observers maintain is a method of protesting the US and South Korean military drills.
"We believe this is an intentional provocation to raise tensions," the South Korean ministry spokesman said this week of the tests.
Military officials maintained in the Defense Review that the two nations would continue to work together "to deter and defend against North Korean provocations," as quoted by AFP.
The Defense Department strategy guide included a stipulation that the American military would maintain a sizable presence in the Asian Pacific region in an attempt to promote "stability" in the region.
Some have criticized the US strategy for being high on bravado and low on substance. However, this new report includes mention of plans to enhance the Naval fleet and send Marines to Australia, as well as intentions to continue military drills despite objections from Pyongyang.
"We will continue our contributions to the rebalance to the Asia-Pacific region, seeking to preserve peace and stability in a region that is increasingly central to US political, economic, and security interests," it said.
North and South Korea have been bitterly divided since the Korean War ended in 1953. Nearly 30,000 American troops are on standby in South Korea in an attempt to discourage any aggression from the North. The US and South Korea, two close allies, have consistently maintained that they do not plan to launch any military action into the North and that their annual military tests are only conducted to prepare for an emergency.
Before launching the SCUD missiles into the ocean, the North pledged "to create an atmosphere of reconciliation and unity" if the South canceled the planned military drills with the US.
You can share this story on social media: