Nike sneakers frenzy as US police resort to pepper spray and arrests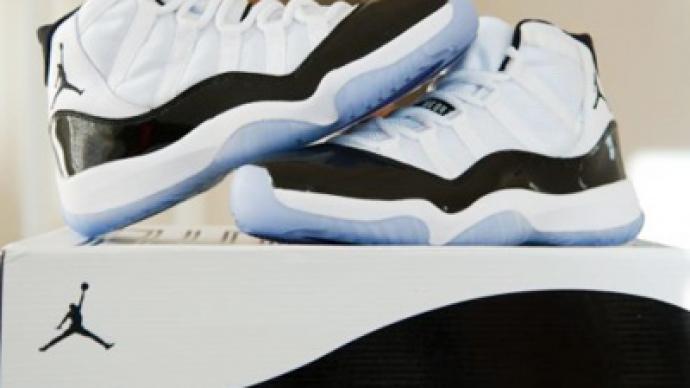 A new brand of Nike basketball shoes has triggered shopping madness across the US complete with fights, arrests and even pepper spraying. It's nothing new, though - "sneaker wars" involving mugging and even killing have broken out in the past.
­Fights erupted in queues across the nation for the new version Air Jordan XI Retro Concords, which went on sale at midnight on Friday. Thousands of people had been waiting in the cold for hours to grab the sneakers for $180. The sneakers are already on sale on eBay for more than $500.Outside Seattle, police pepper-sprayed about 20 people in an attempt to restrain a crowd of 2,000 agitated sneaker- seekers who broke down the doors of the Westfield Southcenter mall, the Seattle Times reports.Police also had to break up scuffles over line-cutting or pushing.  In NYC, 19-year-old Vincenzo Gavrity was arrested after a fight with another customer. "F**k you, I'm getting my shoes," the shopper declared, punching a cop who was trying to handcuff him, according to the New York Daily News. Mr. Gavrity went to jail that night, losing his chance to buy the coveted Air Jordans. So did a few other brawling shoppers in Atlanta, along with a Georgian woman who was taken into custody for leaving her two toddlers in a car while going after the shoes. A Californian was arrested after a gun he took to the sale went off inadvertently causing a crowd to scatter.Luckily nobody was killed in Friday's Air Jordans frenzy. In the past, people have been mugged or even murdered for early versions of these shoes, which first came on the market in 1984, CBS recalls.The Air Jordan has since been a consistent hit with sneaker fans, spawning a subculture of collectors. Some owners save them for special occasions while others never take them out of the box.The retro version of the Air Jordan 11 was a highly sought-after shoe. The original was released in 1996 when Jordan and the Bulls were at the height of their dominance.A new edition has been launched each year, and release dates had to be moved to the weekends to keep kids from skipping school to get a pair.