Dutch mayors want legal home grown weed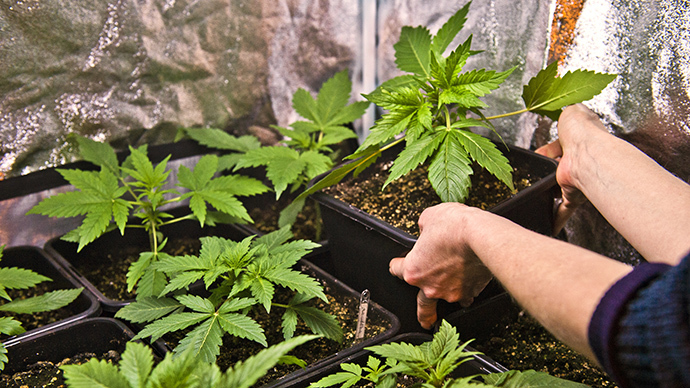 35 Dutch municipalities are asking the government to let them grow cannabis. Dutch laws on marijuana allow people to smoke it legally but a recent global spate of pro-weed legislation is leaving the Dutch lagging behind some other countries.
Dozens of mayors and experts from 35 Dutch towns and cities including Amsterdam, Rotterdam and Utrecht gathered last Friday in Utrecht arguing that the current laws, which allow the sale but not the cultivation of marijuana, mean that Dutch coffee shops, which sell the drug, have to get it from illegal gangs, encouraging organized crime and wasting valuable police time.
Ahmed Aboutaleb, the mayor of Rotterdam, said that cannabis cafes had to rely on "murky worlds" and that the current situation in Holland was unsustainable, according to the public broadcaster RTV.
As a result of the meeting a manifesto addressing the government has been penned.
However, the Dutch government disagrees and argues that any change in the law would not be welcomed by neighboring countries, which could see Dutch grown weed in their own backyard.
"We agree that crime and nuisance have to be fought, but we disagree on the right instrument," said Ivo Opstenten, the Security and Justice Minister as cited by The Independent.
Utrecht's alderman for public health, Victor Everhardt who hosted the meeting of mayors has been pushing the proposal since 2011 of the creation of cannabis clubs where the THC content of cannabis plants could be properly regulated, but his suggestion has been rebuffed by the Dutch government.
But now the international tide is turning as the world gradually becomes more weed friendly. The United States, which for decades has operated a tough no tolerance approach to drug use branded the "War on Drugs", has legalized cannabis shops in Colorado with Washington State look set to follow.
Colorado now allows the regulated growth of marijuana, which is taxed, for recreational use.While in South America Uruguay became the first nation to fully legalize pot.
Since the 1970's Holland has been one of the few countries in the world where you can have a joint without worrying about getting busted as the possession of small amounts of cannabis has been legal. Dutch cities have become favorite destinations for weed hungry tourists.
As a result a so called wietpas policy, which in English translates as 'weed pass', came into effect in the Netherland's three southern most provinces on May 1st 2012. The law was to prevent foreigners from legally purchasing cannabis in coffee shops, but Dutch citizens and expats with residence cards were able to sign up for the 'weed pass'.
The policy proved unpopular with communities in the southern cities where it became law complaining of a rise in the number of street dealers. Many locals also refused to sign up for the pass out of fear that their names would appear on a government list or that their employers may get wind of their recreational habits.
The 'weed pass law' was due to be introduced nationally on January 1st 2013 but in November 2012 it was repealed. Each city in Holland is now able to regulate the sale of marijuana as they choose.
"It's not like tourists are going to say OK, there's no cannabis here anymore. Instead they're just going to try and find it on the streets, leading to a larger black market, more disputes with dealers, no control over its quality and all the other problems we used to have," said Eberhard van der Laan, Amsterdam's liberal mayor as quoted by DailyMail.
Research from Intraval, an independent agency that carries out social scientific research showed the number of coffee shops decreasing from 1999 to 2011 by 22 percent.
You can share this story on social media: