How to kill: Dutch govt aims to regulate religious slaughter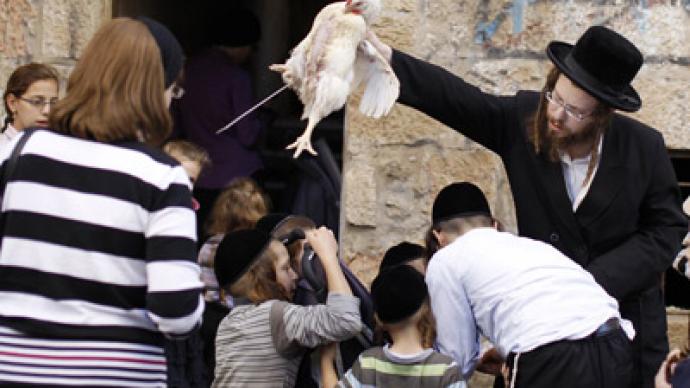 The Dutch government is drafting a decree that would give it the power to overrule anyone aiming to practice ritual slaughter in the Netherlands. The move has received mixed reactions from Jewish communities throughout the country.
The decree, which was signed by Dutch Agriculture Minister Henk Bleker, is aimed at defining the practice's future in the Netherlands. Ritual slaughter – which is known as 'scechitah' to Jews and 'dhabihah' to Muslims – involves making an incision across the animal's throat, allowing the blood to drain out. The slaying of conscious animals is a requirement of Jewish and Muslim law. The declaration says that slaughtered animals still conscious 40 seconds after having their throats cut would be stunned –deeming them unsuitable for kosher or halal purposes. It also issues regulations on knife sizes and where the animal can be cut.Both faiths maintain that ritual slaughter is humane because the animal quickly loses consciousness as it bleeds to death. However, animal rights campaigners say the practice induces unnecessary suffering to the animal. Whether or not the ritual should be legal in the Netherlands has been under debate for some time.Last year, the Dutch lower house passed a total ban on the practice. However, the ban was later scrapped by the Senate – which claimed it interfered with freedom of worship. Amsterdam's Chief Rabbi, Aryeh Ralbag, wrote to Bleker last week asking that the minister wait until November 1st to issue a final decree, but says he has not yet received an answer, the Jewish Telegraphic Agency (JTA) reports.Bleker is a member of the current caretaker government and is expected to be replaced over the coming weeks.Ralbag told JTA that the decree was "flawed" and could ultimately eliminate the practice altogether. However, he said the regulations do not contradict Jewish Orthodox Law.Despite criticism from Ralbag and others in the Jewish community, the declaration is actually supported by several Jewish organizations.The decree was signed by the Organization of Jewish Communities in the Netherlands. President of the European Jewish Congress, Moshe Kantor, has also given it his stamp of approval, calling it a "model" for ensuring religious freedom in Europe.
You can share this story on social media: